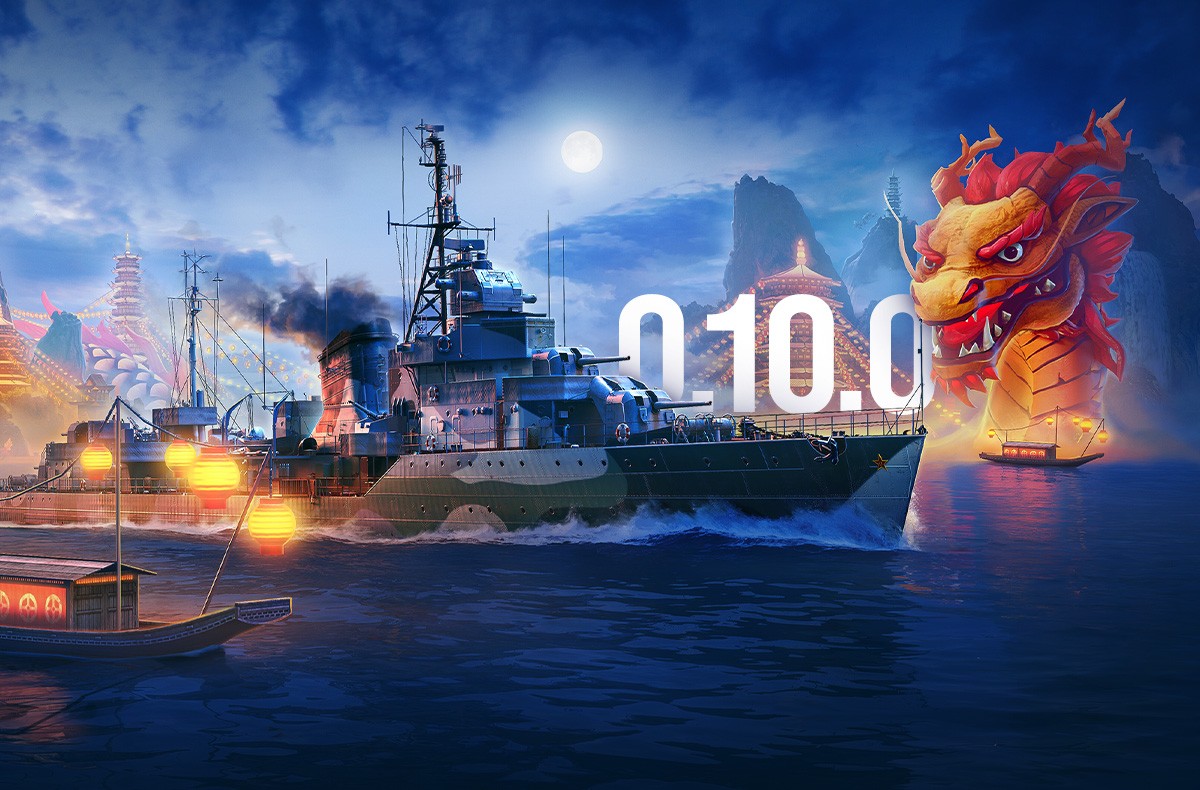 Update 10.0: Reworked Commander Skills - Lunar New Year - Clan Brawls - Discounts and Bonuses
---
Lunar New Year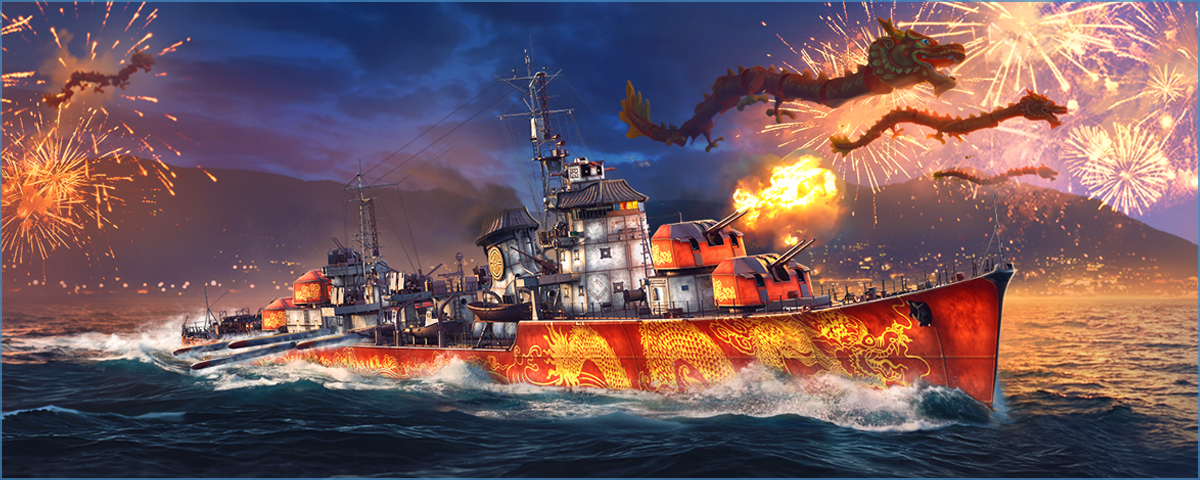 In Update 0.10.0, we're going to celebrate the Lunar New Year! The event includes combat missions, Daily Shipments, new themed ships, Commanders, and "Journey to the West" and Lunar New Year containers. On the occasion of this holiday, we've updated the Dragon Port and added new patches and flags.
Combat Mission Groups
Completing combat missions and groups will bring you "Journey to the West" and Lunar New Year containers, as well as signals, and themed camouflages. The final reward for completing the combat mission groups is
VI Anshan with a 6-skill-point Commander and Port slot.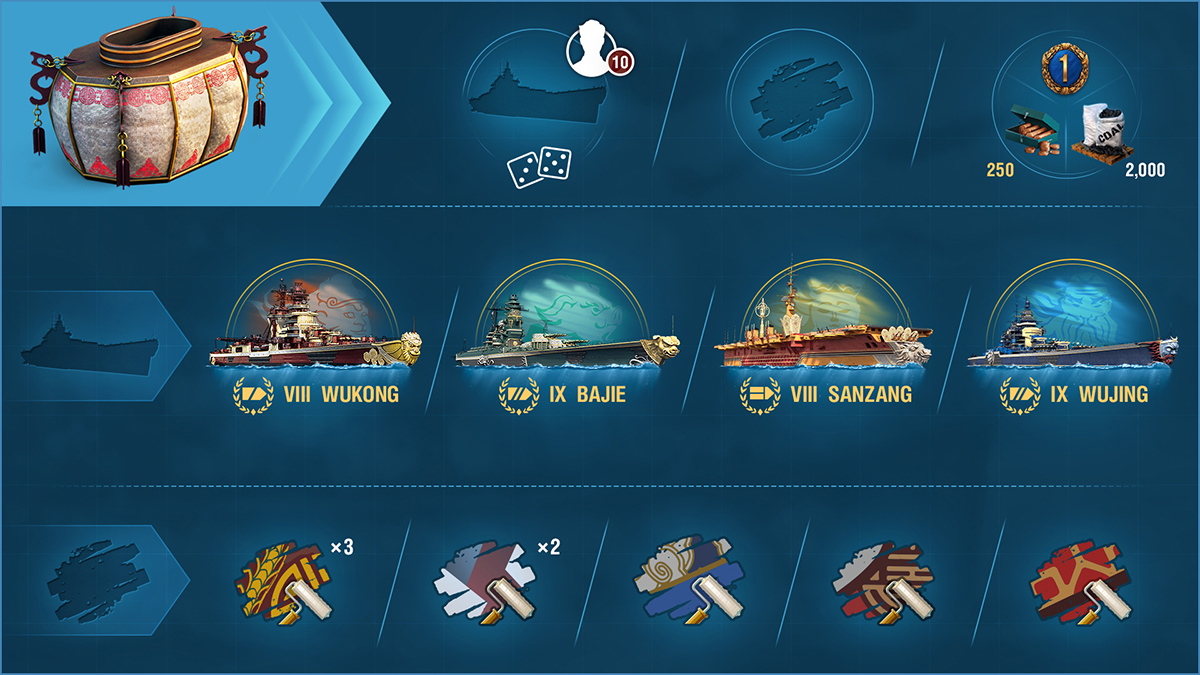 "Journey to the West" containers can drop one of the new ships—
IX Wujing or
VIII Sanzang—in permanent Sha Wujing and Tang Sanzang camouflages with themed Commanders; or either
IX Bajie or
VIII Wukong; or other rewards.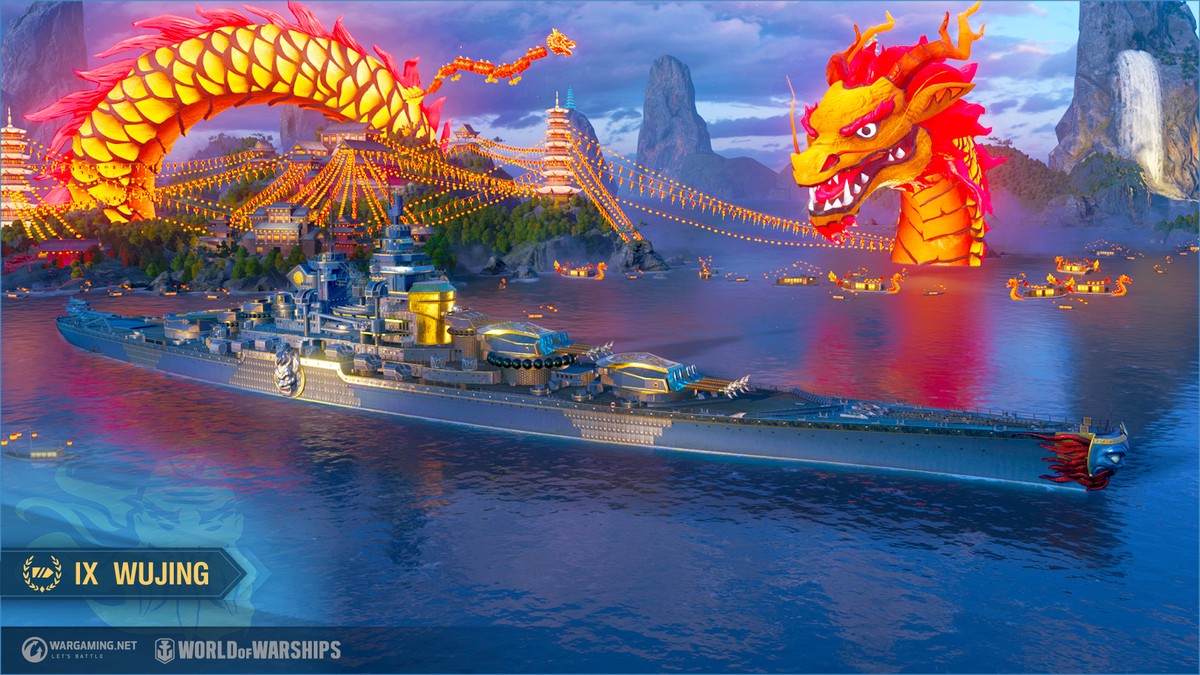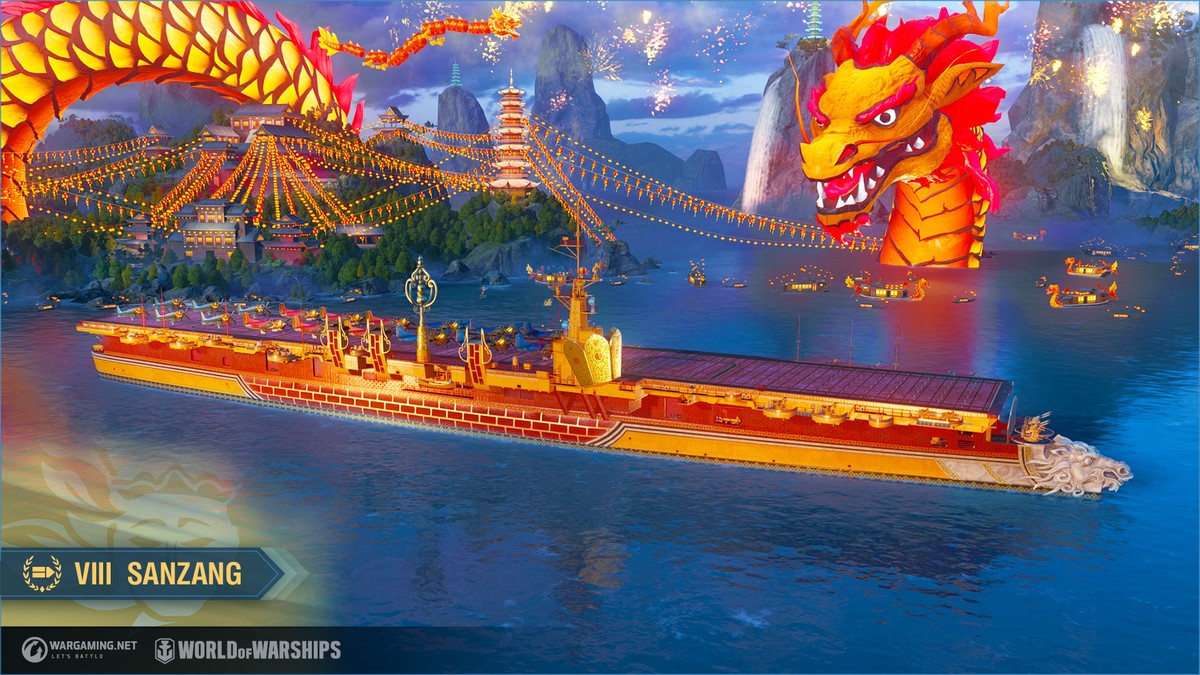 The ships, Commanders, and camouflages are named after heroes of the "Journey to the West" novel—a former celestial General, Sha Wujin; a Buddhist monk, Tang Sanzang; the Monkey King, Sun Wukong; and a sorcerer, Zhu Bajie.
Please note: if deemed necessary, balance changes may be applied to
IX Wujing.
Lunar New Year containers can drop the new Pan-Asian destroyer,
VIII Fen Yang; or either
VI Anshan,
VIII Irian,
VIII Loyang,
VI Huanghe, or
VIII Siliwangi; or a permanent camouflage for one of these ships; or other rewards.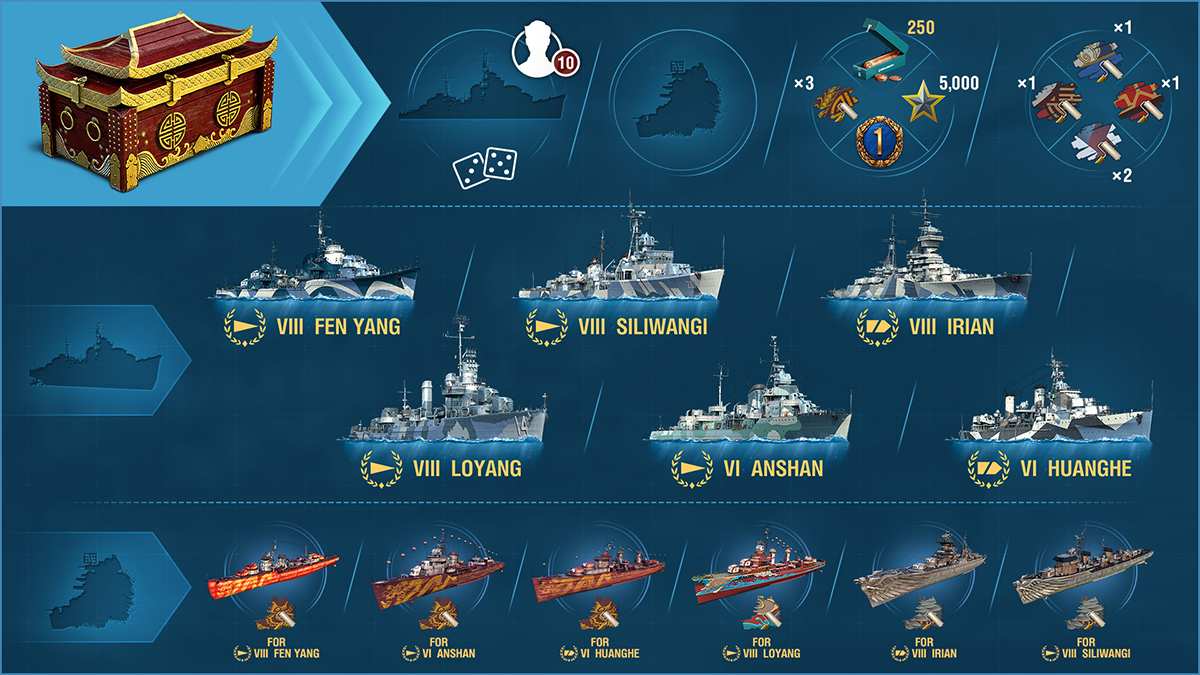 Daily Shipments
During Update 0.10.0, enter the game in the period between January 20 and February 3, inclusive, to start getting valuable rewards via the Daily Shipments section.

You can get a total of 10 rewards throughout the 14 days that the shipments are available. That means you can skip 4 days out of 2 weeks and still claim all the valuable rewards.
---
Commander Skills Update

The Commander skills system will be changed in Update 0.10.0.
Main Changes
We've added new skills and changed some of the old ones.
Each Commander now has a separate skill section for each ship type. The skill section corresponding to the played ship type is active in battle.
As skills have become more specialized and their total number has increased, the maximum possible number of skill points available to one Commander has been increased from 19 to 21.
We've added a skill recommendation system, depending on the selected ship.
Commanders with less than 21 skill points will additionally bring you Elite Commander XP in the amount of 5% of the Commander XP gained per battle.
We've added a new method of obtaining Elite Commander XP—by dismissing unused Commanders.
We've revamped the interface of the Commander skill, recruitment, re-assignment, and dismissal system.
With the release of Update 0.10.0, all your commanders' skills will automatically be redistributed using a recommendation system—this way, you'll get a skill build that's effective for each specific ship in the new system. You can take advantage of the opportunity to reset Commander skills free of charge in Update 0.10.0. Make sure to try out different combinations and find the ones that suit your playstyle!
After the release of the Update, additional balance corrections might be required. In case of significant changes going forward, we will provide additional opportunities to retrain your Commanders for free.
Discounts and Bonuses in Update 0.10.0
To help you get familiar with the new Commander skills system in Update 0.10.0:
Commander skills can be reset free of charge.
Upgrades can be demounted free of charge.
The cost in Doubloons to retrain commanders for different ships has been reduced by 90%—from 500 to 50 Doubloons.
In addition, to help you experiment with retraining Commanders:
Players with Access Level 8 and above will receive 500 Doubloons when they first log in to the game during Update 0.10.0.
Update 0.10.0 features six special combat missions, one for each nation with more than one ship branch: the U.S.A; Japan; U.K.; the U.S.S.R.; Germany; and France. To complete each mission, you'll need to earn 1,100 base XP in any number of battles, playing a Tier VII–X ship in any battle type, except Training Battles. The reward for each one is 100 Doubloons.
In total, you can obtain up to 1,100 Doubloons. These will be enough to perform Commander retraining 22 times in Update 0.10.0.
---
Kure Dockyard

The construction of
IX Hizen continues! Until the end of Update 0.10.0, you can complete Shipyard combat missions and progress through 22 out of 26 shipbuilding phases. Purchasing phases for Doubloons will continue to be possible until the end of Update 0.10.1.
---
Clan Brawls

Update 0.10.0 will see the 14th and 15th Clan Brawls fought in a 7 vs. 7 format. Brawls are open to all players, even if a player isn't currently in a Clan. To participate, apply via the "Create Division" menu near the "Battle!" button, then wait for an invitation to join a Division. Only the player who creates a Division for a Brawl is required to be part of a Clan; the other two invitees do not have to belong to any Clan at all. The inviting player should have the rank of Clan Recruiter or higher.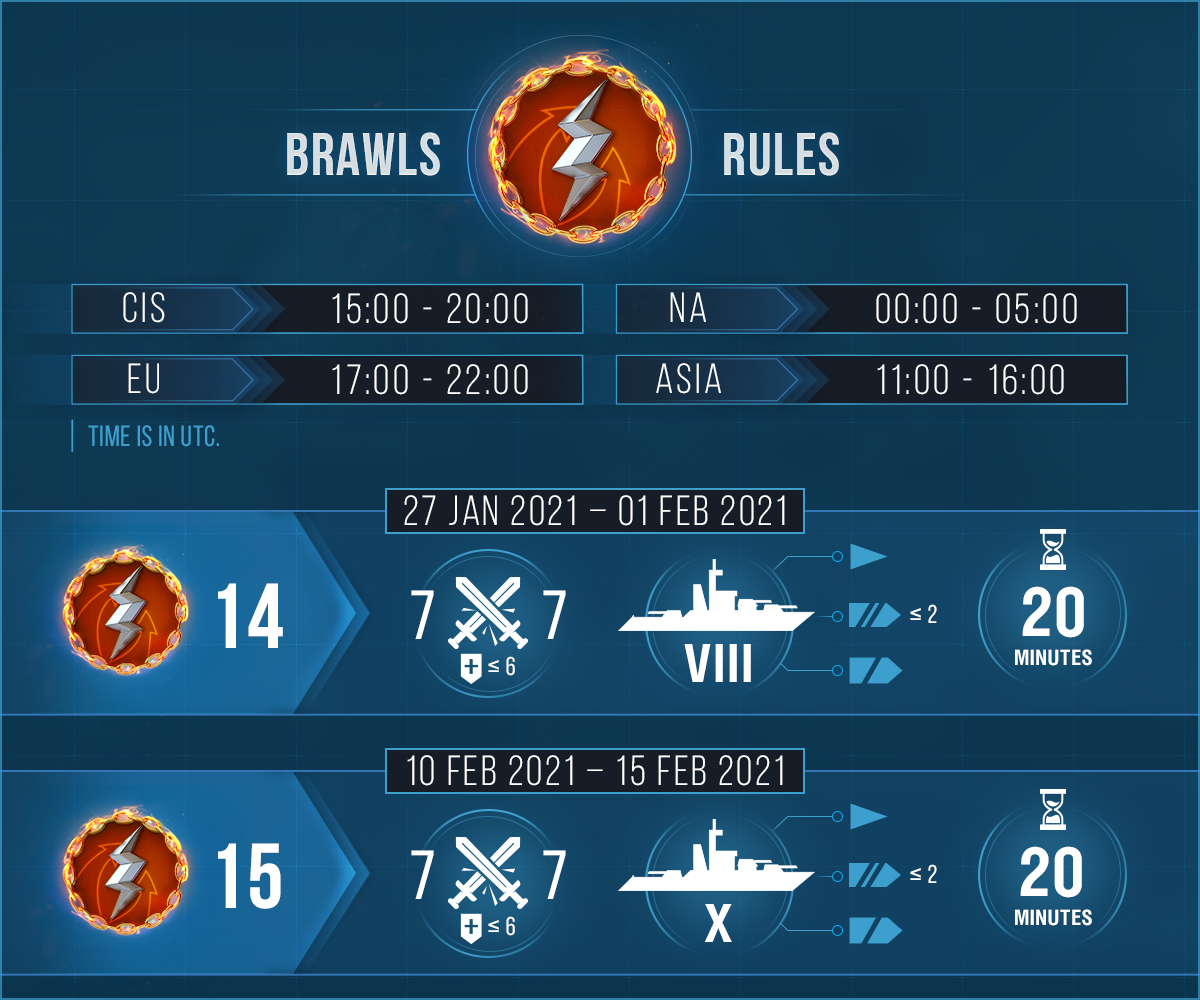 You can play in the 14th and 15th Clan Brawls only during the Prime Time of your server.
Restrictions
No more than two battleships per team.
Aircraft carriers are not permitted.
Up to six mercenaries per Division.
Game maps and modes
The Islands of Ice, Mountain Range, Trident, Warrior's Path, and Sleeping Giant maps in the Arms Race mode.
Rewards for each Brawl
Up to 5,000 Coal; 3,000,000 Credits, and 120,000 Elite Commander XP.
The Brawl rewards are divided equally between two chains of combat missions.
The second chain will succeed the first one:
---
Other Changes

Check under the spoilers for more information regarding balance-related changes, content changes and additions, and other improvements.
Game balance changes

We're making changes to some ships and parameters to better fit the new skills system. Further changes may follow in future updates, should they be required.
The secondary battery firing ranges of battleships and cruisers have been increased.
New ranges (km):
Tier

Standard Firing Range

Range with All Specific Upgrades and Skills

German/French

Other

German/French

Other

III
4
3.2
5
4
IV
4.8
4
6
5
V
4.95
4.3
7.5
6.5
VI
5.6
4.95
8.5
7.5
VII
6.3
5.6
9.5
8.5
VIII
7.6
6.6
11.5
10
IX
7.95
6.95
12
10.5
X
8.3
7.3
12.5
11
If a ship's standard secondary battery firing range was originally higher, it will not be decreased. A ship's detectability is another limiter—the maximum possible range of its secondary battery should not exceed its minimum possible detectability. Because of this:
The secondary battery firing range of the following ships has been reduced:

VIII August von Parseval

—from 7 to 6.6 km

X Manfred von Richthofen

—from 7.2 to 6.9 km

X Plymouth

's secondary battery firing range has been increased from 6 to 7.25 km.
German Tier VII–X battleships
Secondary battery accuracy has been increased.
Thanks to this change, the secondary battery accuracy of German battleships with the "Improved Secondary Battery Aiming" skill will increase by 50%.
Engine damage
When a ship's engine is critically damaged, it now continues to function at 20% efficiency instead of stopping entirely.
VII Atlanta,
VII Atlanta B
Standard main battery firing range has been increased from 11.1 to 13.3 km.
X Colbert
Acceleration and deceleration dynamics have been improved.
II Nino Bixio
Acceleration and deceleration dynamics have been decreased to standard values.
III Taranto
Main battery reload time has been reduced from 12 to 11.2 seconds.
Acceleration and deceleration dynamics have been decreased to standard values.
V Oklahoma
Main battery reload time has been reduced from 40 to 38 seconds.
VII Fiji
Deck armor thickness has been increased from 38 to 51 mm.
The different speeds of patrol fighters on researchable aircraft carriers,
VI Ark Royal,
VI Erich Loewenhardt,
VIII Graf Zeppelin, and
VIII Graf Zeppelin B have been increased to:
Tier IV—187 knots
Tier VI—221 knots
Tier VIII—235 knots
Tier X—266 knots
This change will improve the efficiency of fighters and prevent enemy planes from escaping. Later, we plan to accordingly increase the different speeds of all deck fighters.
The detectability of patrol fighters on all Tier VI, VIII, and X carriers has been increased to 7.5 km. This change will allow us to prevent a situation that might have been possible with the new skill system where patrol fighters could have appeared directly in front of a squadron, leaving no time for evasion.
The effects that increase a squadron's Engine Boost time no longer increase its recovery time.
Content Additions and Changes

Ships
VIII Flandre,

X Max Immelmann, and
X Austin have been added for testing by developers, volunteers, and community contributors.
A Pan-American destroyer,
VI Juruá—
VI Gallant's analogue—has been added together with the Boitata permanent camouflage for her. Detailed information on how to obtain this ship will be published later.
Starting with the release of Update 0.10.1, the following ships will no longer be available to obtain:
IX Georgia,
IX Alaska,
VIII Massachusetts,
X Thunderer, and
X Småland.
The reason for the removal of these ships is a combination of their popularity and combat efficiency. In order to maintain team diversity at an appropriate level, these ships will cease to be available for an indefinite period of time, but may return later.
Starting with the release of Update 0.10.2,
X Somers will no longer be available to obtain from the Armory for an indefinite period of time. She'll be replaced by another U.S. ship—
X Austin.
We understand that accumulating resources to purchase a ship takes a long time, which is why we're letting you know about the changes in advance. This will give players who are interested in these ships time to obtain them before Updates 0.10.1 and 0.10.2 go live in approximately one and two months, respectively.
Other Changes and Improvements

With the release of Update 0.10.0, we're terminating support for Mac OS. We've made this decision due to the low popularity of the operating system with our audience. Supporting Mac OS restrains our ability to improve the visuals of the game and its overall performance.
The video on the start-up screen now plays continuously while the game loads. You can skip it by pressing any key. The ability to automatically skip this video has been added to the Controls section of the Settings.
To make it more explicit, we've updated the display of Early Access ships in the Tech Tree, as well as the descriptions of their features.
Increased the range at which

X Shikishima

's main battery salvos can be heard.
Applied small fixes to the geometry and textures of ships such as

X Khabarovsk

,

II Chikuma

,

VIII Anchorage

,

VIII Saipan

,

VI Gallant

,

IX Alsace

,

X Bourgogne

, and

VIII HSF Harekaze

.
Updated the icons for the Main Battery Reload Booster, Torpedo Reload Booster, and Rapid Takeoff Spotter consumables, as well as several upgrades.
We've updated the interface for carrier armaments in the Port. All squadrons are displayed in the Armament group. Click on a squadron to view its consumables and armaments.
The segment split of torpedo bombers' reticles now depends on the number of aircraft in the attacking flight, rather than on the number of torpedoes.
Pressing the F key after the attack of the last flight in a squadron will skip the attack animation and move the camera back to the ship.
When a squadron takes off, the aircraft models no longer disappear from the deck of an aircraft carrier all at once, but rather disappear in turn.
The message about the return of a squadron to their carrier has been removed.
Fixed an error that caused the information about damage sustained by your aircraft carrier to be displayed incorrectly.
Fixed an error that caused the aircraft carrier icon to be displayed on the Minimap incorrectly.
Fixed an error that caused aircraft on catapults to be displayed incorrectly.
Fixed an error that caused the autopilot to plot an incorrect course.
Fixed an error that caused

X Vermont

's anti-torpedo bulges to not go over her ends.
Fixed an error that caused the "Improved Repair Party" feature to be displayed for the

VIII Kansas

–

X Vermont

sub-branch of U.S. battleships.
Fixed an error that caused the reload time to not be displayed on the torpedo armament icon.
Fixed an error that caused the game client to crash when pressing Enter on the promo screen.
Fixed an error that caused the game client to crash while loading a map.
Fixed an error that caused the shell travel time displayed in the interface to remain the same when changing the shell type.
Fixed an error that resulted in

VIII Saipan

having 40mm Bofors Mk2 guns instead of 40mm Bofors Mk2 anti-aircraft guns. Continuous AA damage has been increased by 4 units per seconds.
Fixed an error that caused the chat window to remain active after pressing Enter.
Fixed an error that caused the previous squadron's attack time to be displayed when launching a new squadron from

X Franklin D. Roosevelt

.
Fixed an error that prevented the light bulbs on main battery guns from moving together with the barrels on

VIII Albemarle

in the New Year camouflage.
Fixed an error that prevented

VII Nueve de Julio

's guns from moving.
Updated the Port camera position for New York.
---
Attentive readers can expect a reward! All you need to do is click the "regional button" below > then on the WG portal click the "Get Reward" Button and

1 day premium account

will be yours! Please note: your day of Premium Account starts immediately after clicking the button, so make sure you dive straight into the game afterwards to make best use of it.