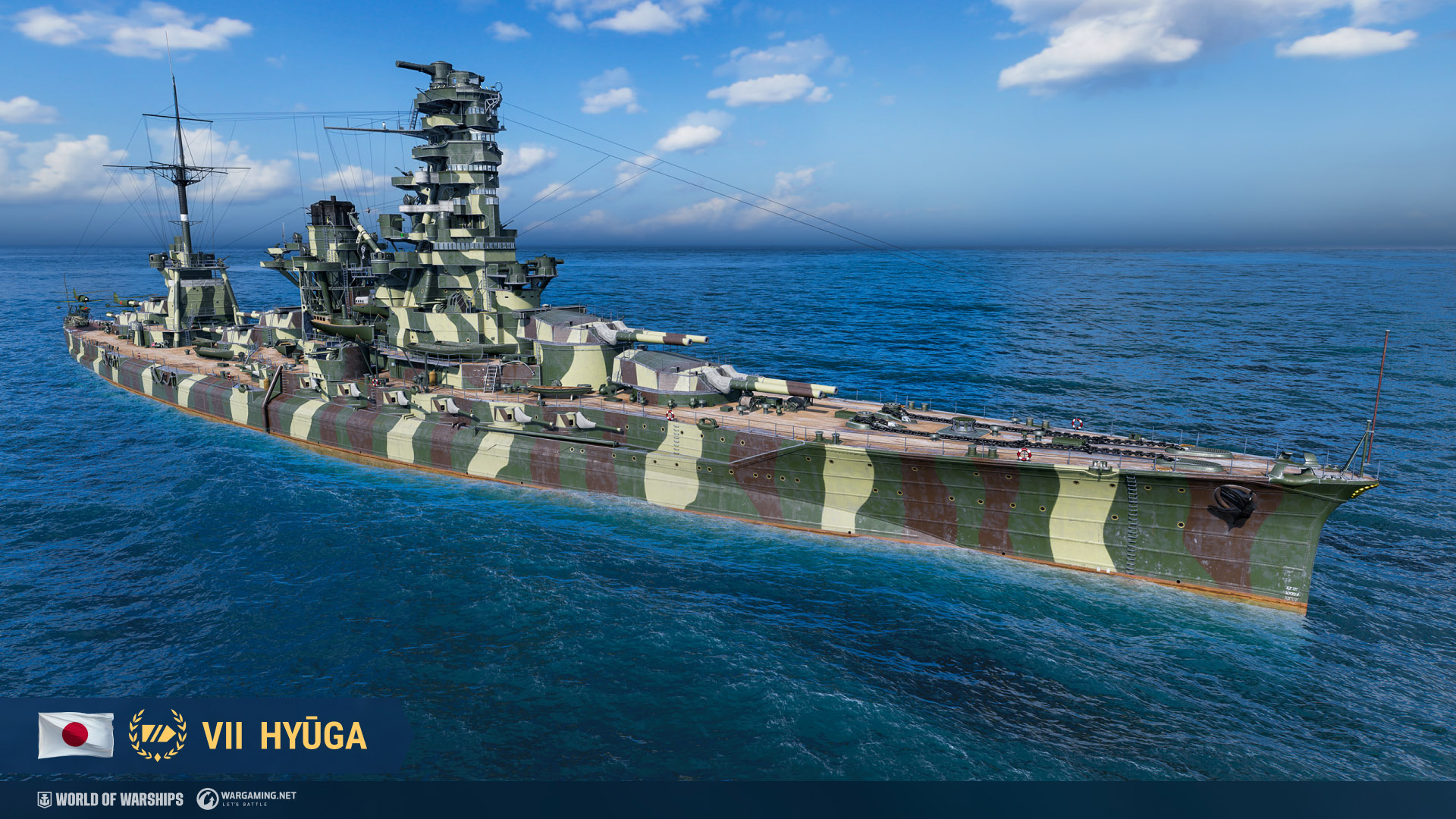 Hyūga

-
Japanese Tier VII Battleship 1918
An Ise-class battleship that was a further development of the Fusō-class warships with a different arrangement for her artillery. Heavy reconstruction during the 1930s resulted in the battleship having better speed parameters, stronger anti-torpedo protection, and more solid horizontal armor.
Hyūga

Commemorative Flag


Since ancient times, Hyūga Province has been a key region of Kyūshū island. From the 12th to the 19th century, control over the island was held by the powerful Shimazu samurai clan. The commemorative flag of the battleship depicts the Kamon, the Shimazu family emblem.
Ship Name:
VII

Hyūga

.
Tier: VII (7).
Is paper ship: No.
WG introduction:
January 14th 2021
.
Status:
Premium Ship.
Ship release: 0.10.3.
Resource purchase:
9,800
Doubloons
Nation:
Japan.
Permaflage:
Type 10
Free.
Current development status:
Released
---
Hit Points: 60,700 hp
Overall: 16~305 mm
Torpedo protection, damage reduction: 26%
---
6 x 2 356 mm/45 41st Year Type:
Max Range: 20.3 km
Reload: 29.0 s
180° Turn Time: 45.0 s
Dispersion at Max Range: 230 m
Sigma: 1.8σ
Alpha Damage: 5700
Alpha Piercing HE: 59 mm
Air Drag Coefficient: 0.531
Always Ricochet at: 60.0°
Normalization: 8°
Fusetime: 0.001 s
Detonator Threshold: 2.0 mm
Shell Diameter: 0.356 m
Krupp: 385.0
Mass: 625.0 kg
Start Ricochet: 91.0°
Muzzle Velocity: 805 m/s
Burn Probability: 25%
Alpha Damage: 10200
Ammo Type: AP
Air Drag Coefficient: 0.331
Always Ricochet at: 60.0°
Normalization: 6.0°
Fusetime: 0.033 s
Detonator Threshold: 59.0 mm
Shell Diameter: 0.356 m
Krupp: 2657.0
Mass: 673.5 kg
Start Ricochet: 45.0°
Muzzle Velocity: 775 m/s
---
Range: 5.6 km
Damage: 2400 hp
Chance of Fire: 10%
Reload: 8.0 s
HE Armour Penetration: 23 mm
Shell Velocity: 850 m/s
Range: 5.6 km
Damage: 2100 hp
Chance of Fire: 8%
Reload: 5.0 s
HE Armour Penetration: 21 mm
Shell Velocity: 725 m/s
---
LONG RANGE
Action Radius: ~5.8 km
Hit Probability: 75 %
Damage Within an Explosion: 1330
Continuous Damage Per Second: 63
Number of Explosions Per Salvo: 2
SHORT RANGE
AA Damage: 74
Hit Probability: 85%
Action Radius: ~2.5 km
---
Maximum Speed: 25.3 kts
Turning Circle Radius: 750 m
Rudder Shift Time: 15.0 s
Propulsion: 81,050 hp
---
Surface Detectability: 16.3 km
Air Detectability: 10.5 km
Detectability after Firing Main Guns in Smoke: 14.8 km
---
Slot 1:
Damage Control Party:
Work Time: 10 s
Reload Time: 80 s
Charges: 4
Action time: 28 s
Reload Time: 80 s
Slot 3:
Main Battery Reload Booster:
Charges: 3
Action time: 15 s
Reload Time: 60 s
Main Battery Reload time: -50%
Charges: 3
Work Time: 60 s
Reload Time: 90 s
Number of fighters: x3
Action radius: +3 km