Ranked Battles 3rd Season 7 x 7
Season 3 of the new Ranked Battles kicks off together with Update 0.10.4.
Test your strength in Ranked Battles to earn rewards! The new Ranked Battles season is being held in a 7 vs. 7 format. The locations of Key Areas differ from those in Random Battles. This format offers a new gameplay experience by making Ranked Battles more dynamic.
Winning battles will reward you with Doubloons, Steel, camouflages, and other desirable in-game items. You can purchase Premium and special ships in the Armory in exchange for the Doubloons and Steel you earn. Reaching Rank 1 in each league will reward you with the corresponding container. The containers drop special signals that increase the amount of resources you earn in battle, as well as Coal, Free XP, and Elite Commander XP. Earn the Jolly Roger achievement for reaching Rank 1 in each league to feel like a seasoned sea wolf! Reaching Rank 1 in the Gold League will reward you with Ranked Tokens. Win battles, stock up on Tokens, and purchase rare permanent camouflages!

Key Features of the New System
Each season is divided into several Sprints. The duration of a single Sprint is approximately 1–3 weeks, and this may differ from season to season.
There are three leagues in each season: Bronze, Silver, and Gold.
In order to enter the next league, you need to reach Rank 1 in your current league and then qualify.

If you don't manage to qualify for the next league, you'll start the new Sprint in your current league at the lowest rank of this league. All the rewards will be available to collect again.
If you qualify for the next league, you'll start the new Sprint in that next league with the lowest rank of that league.

During a single Sprint, players can only progress in their current league and qualify for the next one.
Rewards are granted for achieving victories, reaching Rank 1 in a league, and qualifying for a new league.
Ranked Battles aren't available during low activity periods. This is necessary to ensure high-quality matchmaking.
Ranked Battles 3rd Season [UTC]
Ranked Battles 3rd Season Ends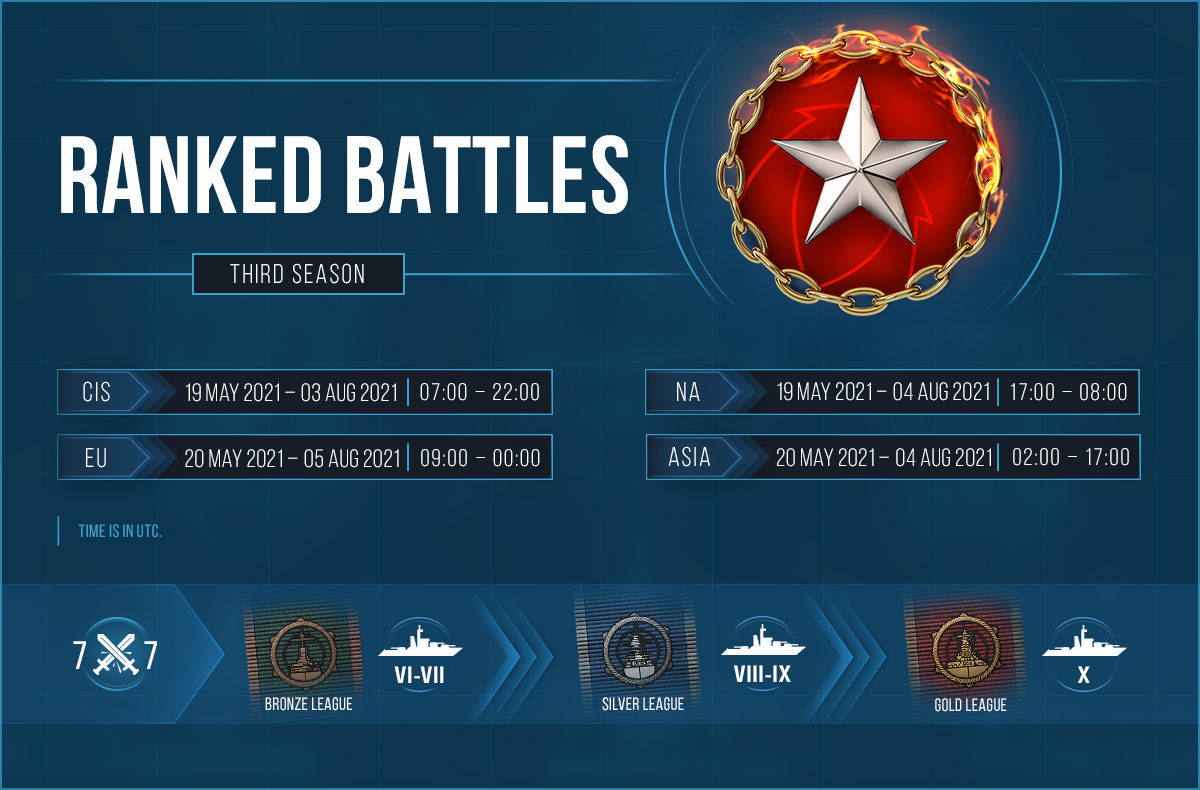 CIS: 07:00 — 22:00 UTC
NA: 17:00 — 08:00 UTC
ASIA: 02:00 — 17:00 UTC
EU: 09:00 — 00:00 UTC
7 vs. 7
Tiers VI–VII in the Bronze League

Tiers VIII–IX in the Silver League

Tier X in the Gold League
| Map | League | Battle Tiers |
| --- | --- | --- |
| Ring | Bronze | 6–7 |
| Strait | Bronze | 6–7 |
| New Dawn | Bronze | 6–7 |
| Trident | Bronze | 6–7 |
| Fault Line | Bronze | 6–7 |
| Tears of the Desert | Silver | 8–9 |
| Warrior's Path | Silver | 8–9 |
| Sea of Fortune | Silver | 8–9 |
| Islands of Ice | Silver | 8–9 |
| Loop | Silver | 8–9 |
| Haven | Gold | 10 |
| Shards | Gold | 10 |
| Trap | Gold | 10 |
| Northern Lights | Gold | 10 |
| Riposte | Gold | 10 |
The rewards for each league will be refreshed and available again at the start of each new Sprint.{alertInfo}