0.10.3 Early Access and Combat Missions - German Destroyers Tiers VII to IX
Update 0.10.3 kicks off an event that places the new German Tier VII–IX destroyers right in the spotlight!
Features of the Ship Branch
Accurate main battery guns with a large calibre for this ship type—150 mm.
Powerful AP shells with decent penetration, damage, and enhanced shell ricochet angles. They are capable of dealing significant damage to cruisers.
Good armor for their type, which effectively protects against the HE shells of most destroyers (unless they have mastered the Inertia Fuse for HE Shells skill), and large HP pools. Combined with effective artillery, this results in special gameplay for the new German destroyers. They are essentially agile ships with powerful AP shells that primarily focus on lone targets—light cruisers particularly.
The low damage per minute of their HE shells and their high detectability means that these new ships are quite ineffective when fighting for control of Key Areas.
The Smoke Generator consumable improves the already good survivability of the new ships even further. Starting from Tier IX, German destroyers have the Defensive AA Fire consumable, which allows them to confront enemy squadrons with greater confidence.
Their torpedoes deal heavy damage and have good range and a reload time that is quite standard for most destroyers, but they are rather slow.
Update 0.10.3~0.10.4 (4 Regions) Countdown Times and Dates
"German Destroyers: Part 1" Combat Missions
The German destroyers event tasks you with completing 25 missions, spread across five (5) weekly chains. The first chain will become available with the release of Update 0.10.3 (Date and Times below), while those that follow will be unlocked on a weekly basis. The rewards for completing the missions are German Tokens. For completing all chains of combat missions, you can earn
5,000
German Tokens
.

Early Access
German Tokens
are a new temporary resource. You can earn them by completing weekly chains of combat missions. They can also be obtained from random bundles available for Doubloons, free daily bundles, and bundles in exchange for Recruitment Points in the Armory.
Rewards for German Tokens
German destroyers
VII Z-31
and
VIII Gustav Julius Maerker
; Iron Cross permanent camouflages for the new destroyers; and other rewards that can be found in sequentially available bundles.
You can exchange German Tokens for sequentially available bundles and other rewards in the Armory.
Sequentially Available Bundles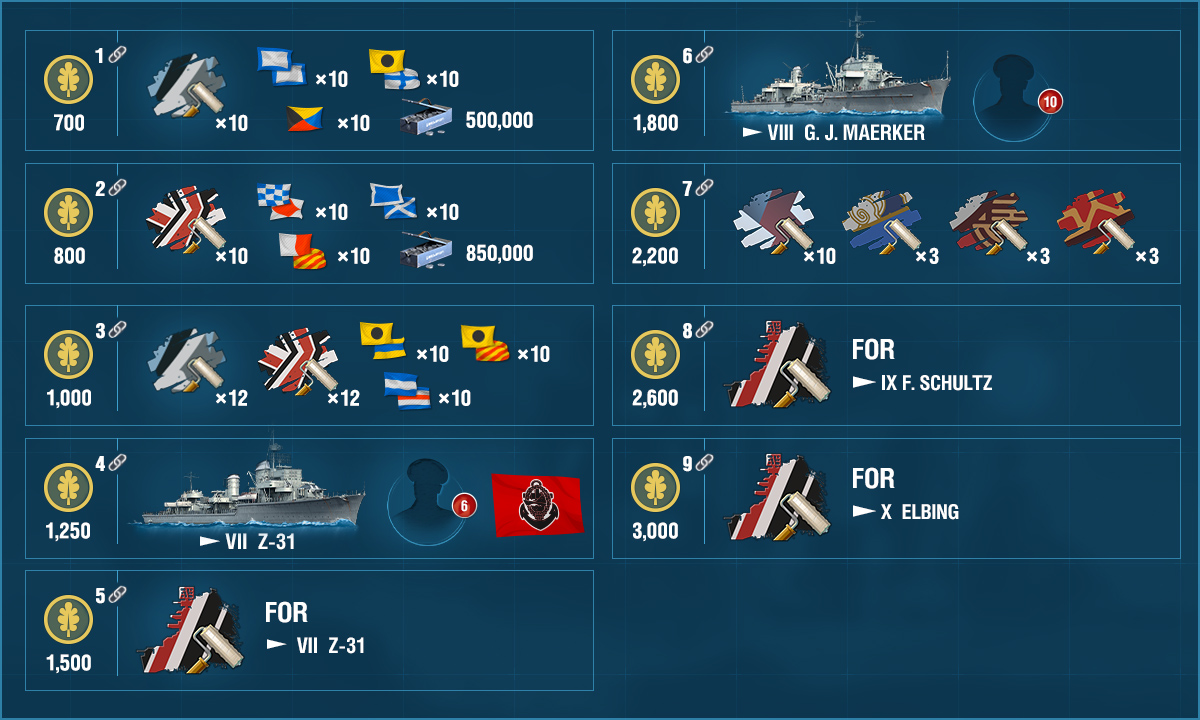 Other Rewards
0.10.3 FREE KRIEGSMARINE TROPHY DAILY BUNDLE

YOU HAVE TO BE LOGGED IN ON YOUR WG REGIONAL PORTAL TO OBTAIN YOUR DAILY FREE GIFT

The amount of Tokens that can be earned by completing weekly chains of combat missions and obtained from the Kriegsmarine Trophies free random bundles in the Armory will be enough to obtain
VII Z-31
and the Iron Cross permanent camouflage from sequentially available bundles.
Rewards from the random bundles available for Doubloons:
IX Felix Schultz
with a 10-skill-point Commander and Port slot, German Tokens, Hunter and "Black, White, Red" expendable camouflages, and special signals.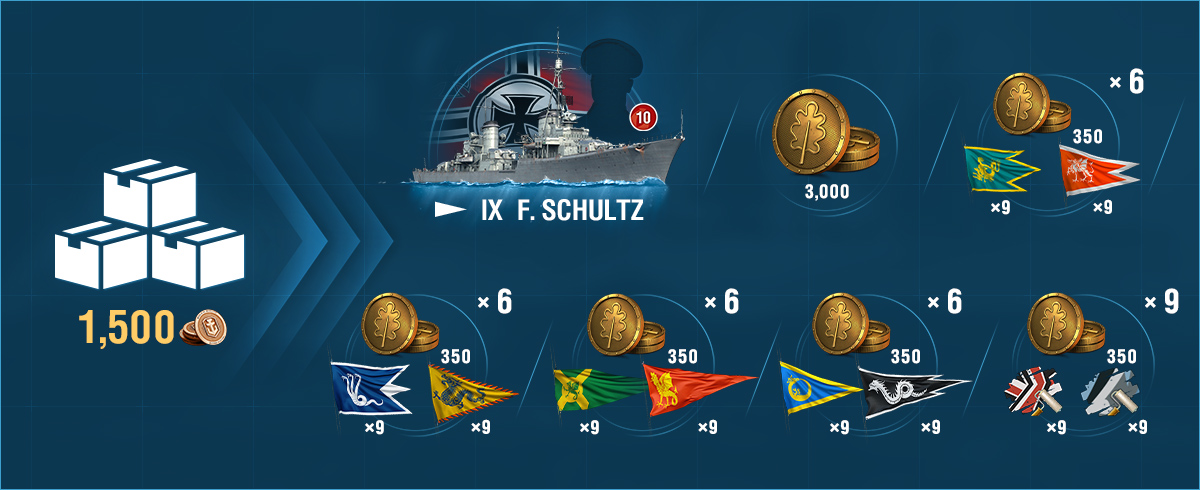 When Update 0.10.5 goes live, the new German destroyers will become available for all players to research.
German Destroyer Tokens.

You can spend your Recruitment Points in the Armory to purchase up to 5 bundles, with 100 Tokens inside each of them, then the German Destroyer Tokens can be used to boost a purchase of one of the Ship Bundles in the German Destroyer segment of the Armory.
FOR 280 RECRUITMENT POINTS, YOU CAN COLLECT 100 GERMAN DESTROYER TOKENS - YOU CAN DO THIS 5 X TIMES
---
New and Veteran Player Invite Codes
Click the banner that suits you, then follow simple steps on the next page:
---