WargamingUnited: A Charitable Event to Provide C-Type Ambulances for Ukraine
We all have something that can provide us with support, rejuvenation, and comfort even in the toughest times. We as players and/or developers share many things, but it's our common passion for gaming that unites us above all else. It's the reason we've come together as a community, and it sometimes can help us endure and overcome hardships in our lives.
Roll Out for Ukraine
Over the past year and a half, Wargaming has been contributing donations to help Ukrainian civilians, including 1 million USD donated for medical assistance and equipment during the first week of war and 100,000 USD donated to the victims of the Kakhovka disaster. Hundreds of our employees have been making donations through their own initiatives, including launching an internal fundraising campaign and raising 200,000 Euros to purchase ambulance cars for Ukrainian medics. Now, we're inviting you to join us in support of those who have been affected by the war: we're launching our biggest charity project yet—WargamingUnited.
Purchase Special Bundles and Support the People of Ukraine
Starting today, we're inviting our community across six of our games—World of Warships, World of Warships: Legends, World of Tanks, World of Tanks Blitz, World of Tanks Modern Armor, and World of Warplanes—to unite around this global initiative. Each game will be featuring special Ukraine-themed bundles with customization elements crafted by the artists at our Kyiv studio. With these time-limited offers, you can both show your support and receive valuable in-game content.
We'll donate 100% of proceeds* from sales of each "WargamingUnited" bundle via UNITED24, the official fundraising platform of Ukraine, for buying C-Type ambulances that will take on the duty to save lives.
WHAT IS A C-TYPE AMBULANCE?
Every day, Ukraine's emergency medical teams are the first to arrive at the scenes of attacks, doing everything necessary to help those in need.
Despite their immense courage and skill, their ability to save lives depends on how soon they can reach the injured, administer emergency medical care, and quickly transport them to a hospital.
C-Type ambulances are highly specialized vehicles equipped with the essential defibrillators, cardiac monitors, oxygen tanks, and artificial lung ventilator devices needed to keep the injured alive until they can reach an operating room.
Each ambulance funded will mean hundreds of lives saved.
You can also visit the WargamingUnited webpage to learn about offers from our sister games.
Let's unite to support the people of Ukraine!
Spirit of Unity
"Spirit of Unity" and "Resilient" special bundles have arrived in the World of Warships Premium Shop.
The bundles will be available until:

Nov 1, 19:00 UTC

Choose how you would like to support the people of Ukraine! You can obtain the Resilient bundle that holds only camouflages or the Spirit of Unity bundle that holds a flag, patch, camouflages, and other valuable in-game items, including expendable economic bonuses, days of Warships Premium Account, Credits, and India Delta signals.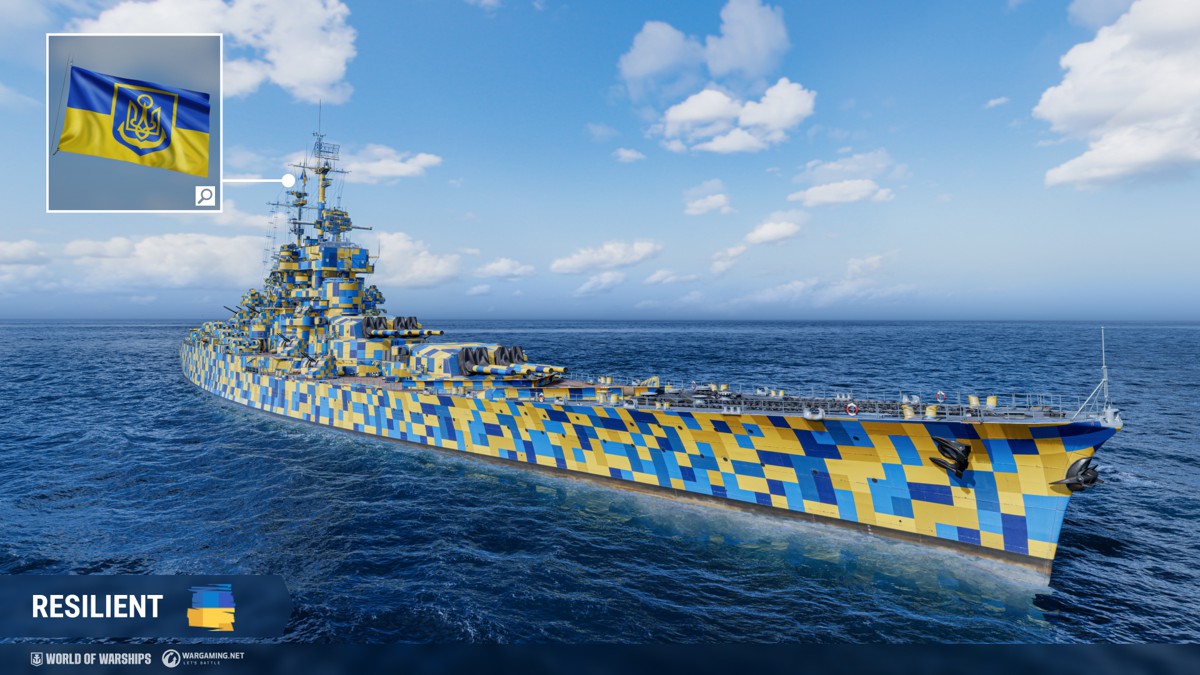 About UNITED24
UNITED24 is the official fundraising platform of Ukraine. Its goal is to unite the world around supporting Ukraine: to protect, save, and rebuild.
No one was ready for a full-scale war in the heart of Europe. Charitable foundations, no matter how well-organized, cannot meet the needs of a country as large as Ukraine.
The platform allows one-click donations to Ukraine from anywhere. Ukraine itself knows best what's needed and can deliver aid directly.
UNITED24 is designed for collaboration with charities, partners, donors, and public figures worldwide. Their goal is to establish an efficient work process that brings Ukraine's victory closer.
Wargaming has been uniting efforts with UNITED24, including making a 100,000 USD donation to the victims of the Kakhovka disaster and 250,000 USD donated on the day of the company's 25th Anniversary.
Please see the official UNITED24 website for complete details.