WoWs 5th Anniversary
As WG cross the threshold of our fifth year, we're marking the occasion by offering you an array of gifts and fresh in-game activities.
Join the celebrations by entering the updated Designer's Table Port, which has changed a lot over the past year and become even more festive, WG have added a cake, postcards, confetti, and ribbons creatively scattered on the table. The collection of ship models has also been updated with new representatives!
First-Victory Bonuses
Be sure to take a careful look at your ship carousel. Ships with a first-victory bonus applied will be marked with a special symbol. During Update 0.9.8, players will be able to receive a festive bonus for their first victories playing specific ships in Random, Co-op, Ranked, and Asymmetric Battles, as well as in Operations.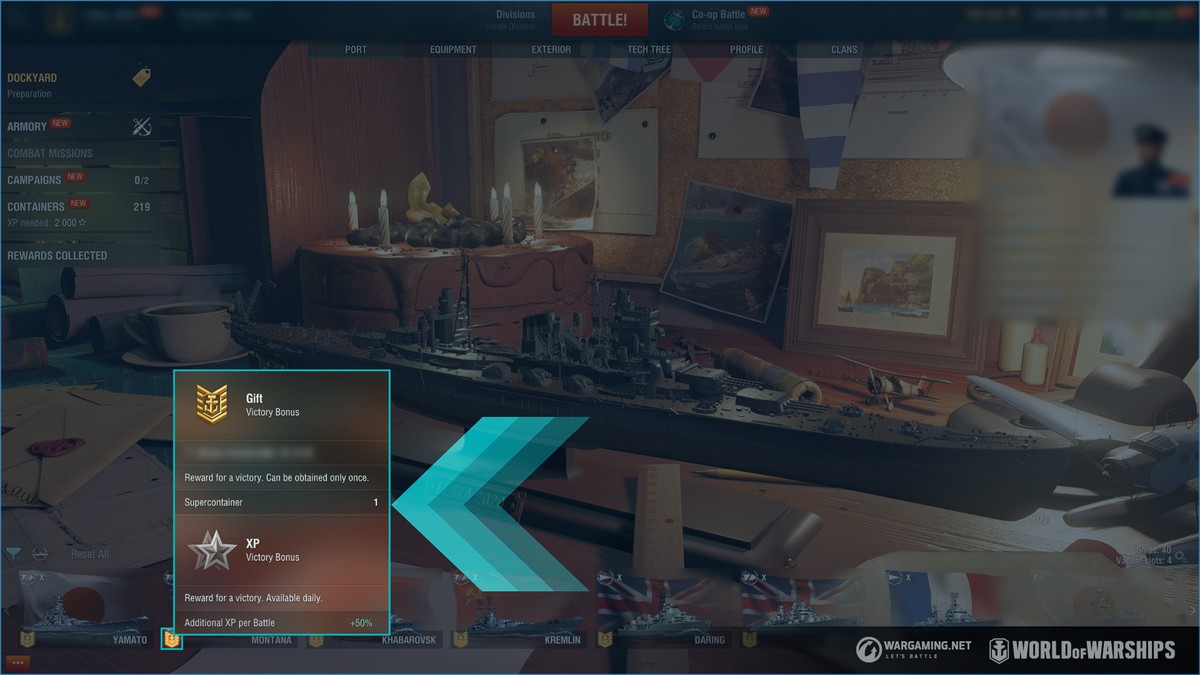 List of Rewards
Tiers V–VII: 2x World of Warships Anniversary camouflages
Tier VIII: 1x Gift container
Tier IX: 2x Gift containers
Tier X: 1x Supercontainer
You could possibly win one of the following ships in the Supercontainers.
VII Poltava
V Mikoyan
VII Gorizia
VIII Cheshire
VIII Indomitable
VI London
VIII Mainz
VII California
VIII Ochakov
VI Admiral Makarov
V Kirov
VIII Orkan
VIII Champagne
VIII Piotr Bagration
IV Imperator Nikolai I




V Gremyashchy




V Kamikaze




V Fūjin




V Giulio Cesare




VII Belfast




VIII Mikhail Kutuzov




VIII Enterprise




IX Missouri




IX Musashi




IX Kronshtadt




IX Benham




IX Georgia




IX Jean Bart




IX Alaska




IX Azuma




IX Friesland


VIII Graf Zeppelin
VIII Roma
VIII Vanguard
VIII Kii
VIII Massachusetts
VIII Tirpitz
VIII Gascogne
VIII Alabama
VIII Irian
VIII Wichita
VIII Lenin
VIII Saipan
VIII Kaga
VIII Prinz Eugen
VIII Bayard
VIII Atago
VIII Cossack
VIII Le Terrible
VIII Asashio
VIII Kidd
VIII Loyang
VII Duca degli Abruzzi
VII Nelson
VII Duke of York
VII Hood
VII Scharnhorst
VII Ashitaka
VII Atlanta
VII Nueve de Julio
VII Boise
VII Lazo
VII Indianapolis
VII Yūdachi
VII Z-39
VII Haida
VII Leningrad
VII Sims
VII Błyskawica
VI W. Virginia 1941
VI Prinz Eitel Friedrich
VI Duca d'Aosta
VI Arizona
VI Mutsu
VI Warspite
VI Ark Royal
VI De Grasse
VI T-61
VI Dunkerque
VI Huanghe
VI Perth
VI Admiral Graf Spee
VI Aigle
VI Monaghan
VI Molotov
VI Gallant
VI Anshan
V Oktyabrskaya Revolutsiya
V Viribus Unitis
V Genova
V Texas
V Exeter
V Yahagi
V Marblehead Lima
V Marblehead
V Murmansk
V Krasny Krym
V Hill
V Siroco
V Okhotnik

A Gift container holds five special signals of the same type (Dragon, Red Dragon, Wyvern, Ouroboros, Hydra, Basilisk, Scylla, or Leviathan).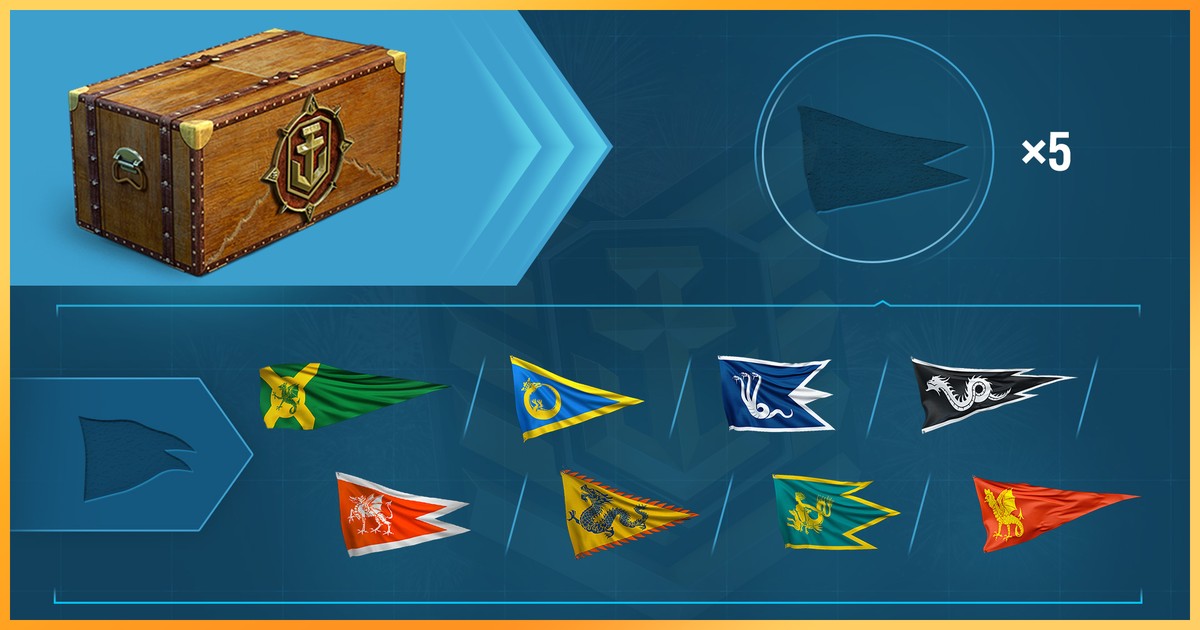 You can receive the first-victory bonus for each ship only once during Update 0.9.8. The bonuses will also be applied to ships purchased, bought back, or dropped from containers during Update 0.9.8.
"Five Epochs of the Navy" Campaign
The new permanent Campaign comprises 50 tasks grouped into five missions, each of which is dedicated to a specific shipbuilding epoch. To finish the Campaign, you'll need to complete tasks playing ships of various tiers: starting from Tier II–IV ships for the first mission, and progressing to Tiers VIII–X for the final mission. Most of the tasks must be completed playing certain ships related to the history of the navy. For example, some of the tasks of the first mission are inspired by the development of battleship building technologies and should be completed playing battleships of this era, such as
III South Carolina,
III Kawachi,
IV Gangut, or
III Dreadnought—all of which contributed to the adoption of the name given to this period of naval history.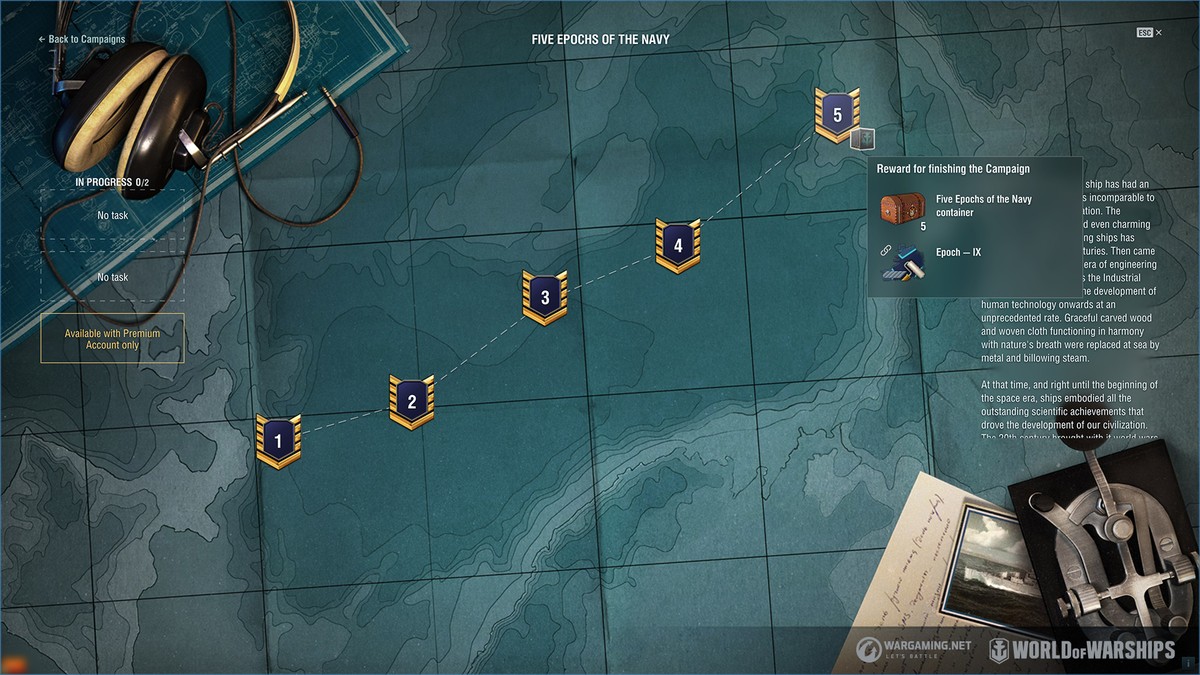 However, you can complete the Campaign, collect all the containers of the new collection, and obtain the final reward by completing the first three tasks of each mission playing any ships of the relevant tiers.
The reward for completing the Campaign
is an Epoch permanent camouflage, which can be mounted on any one Tier IX ship, except for
IX AL Sov. Rossiya.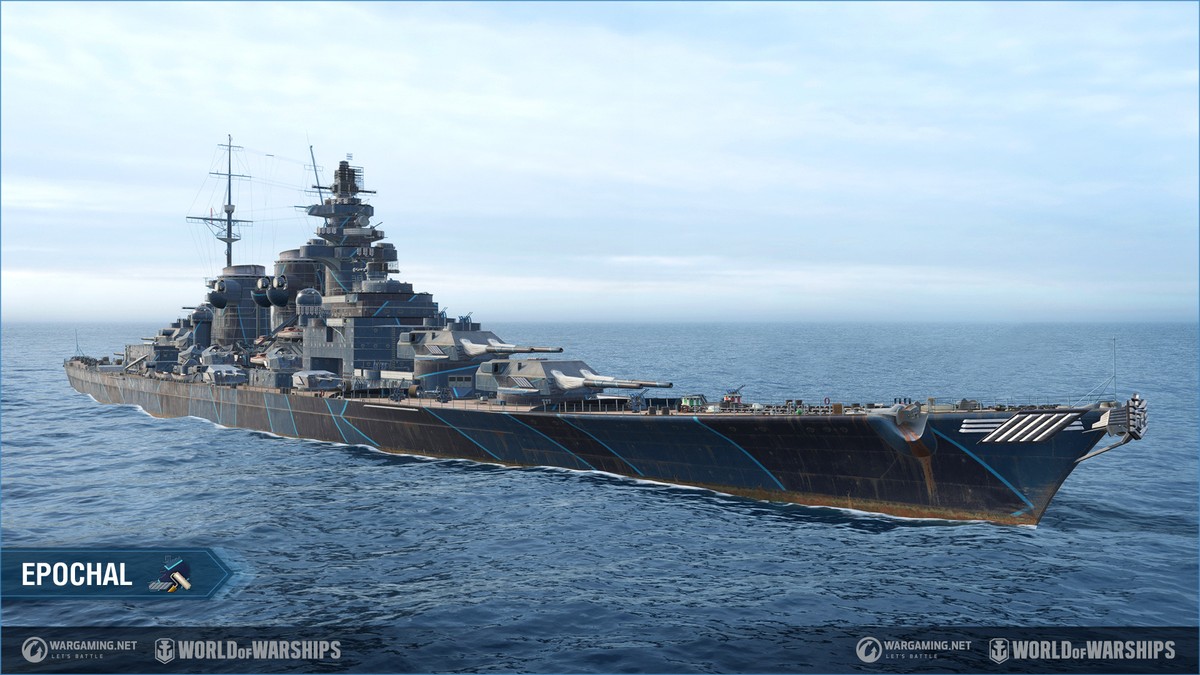 The first mission will become available with the release of Update 0.9.8, while those that follow will be unlocked each week.
Please note: you can complete tasks of each mission multiple times. This will allow you to continue earning Stars with each completion, but you'll receive the reward for completing the task for the first time only.
---
"Five Epochs of the Navy" Collection
Update 0.9.8 ushers in the "Five Epochs of the Navy" collection, which comprises five sections with six elements in each. Each section is dedicated to a specific period in the naval history of the first half of the 20th century—from ships of the dreadnought era to those of World War II and the post-war years. Having completed the entire collection, you'll have learned about the construction history, design features, and fates of prominent representatives of each shipbuilding epoch.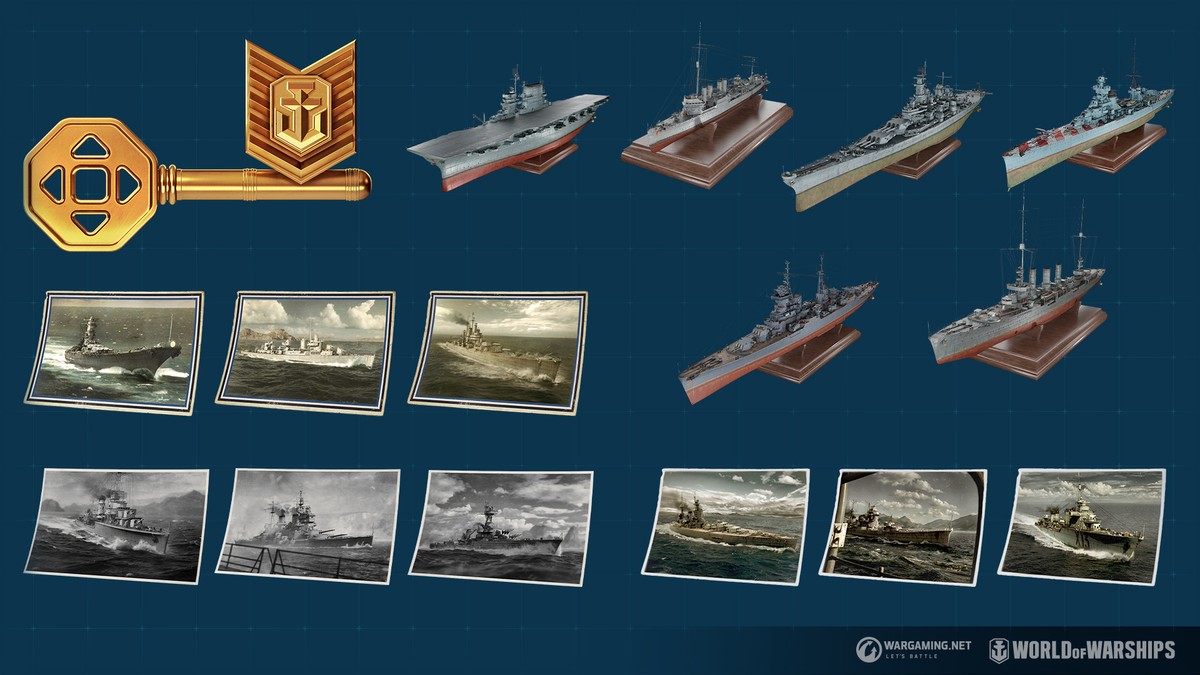 The reward for completing each section is 1 day of Warships Premium Account. The reward for completing the entire collection is an Epoch permanent camouflage.

Elements of the collection can only be obtained from the containers of the same name. The exchange rate for duplicate elements is 1:1. To exchange duplicates, you need to select a vacant slot in a collection section and confirm that you want to exchange your duplicates for the missing item in the window that appears.
You can obtain 30 "Five Epochs of the Navy" containers by completing tasks of the same-name Campaign. You can also obtain containers for participating in the official World of Warships streams! To do so, activate bonus codes given during the streams and then complete special combat missions.

A "Five Epochs of the Navy" container includes:
One element of the "Five Epochs of the Navy" collection.
1x World of Warships Anniversary camouflage.
One of the following items: 2x signals of the same type (Zulu, Papa Papa, Equal Speed Charlie London or India Bravo Terrathree); or 500 Free XP; or 50,000 credits.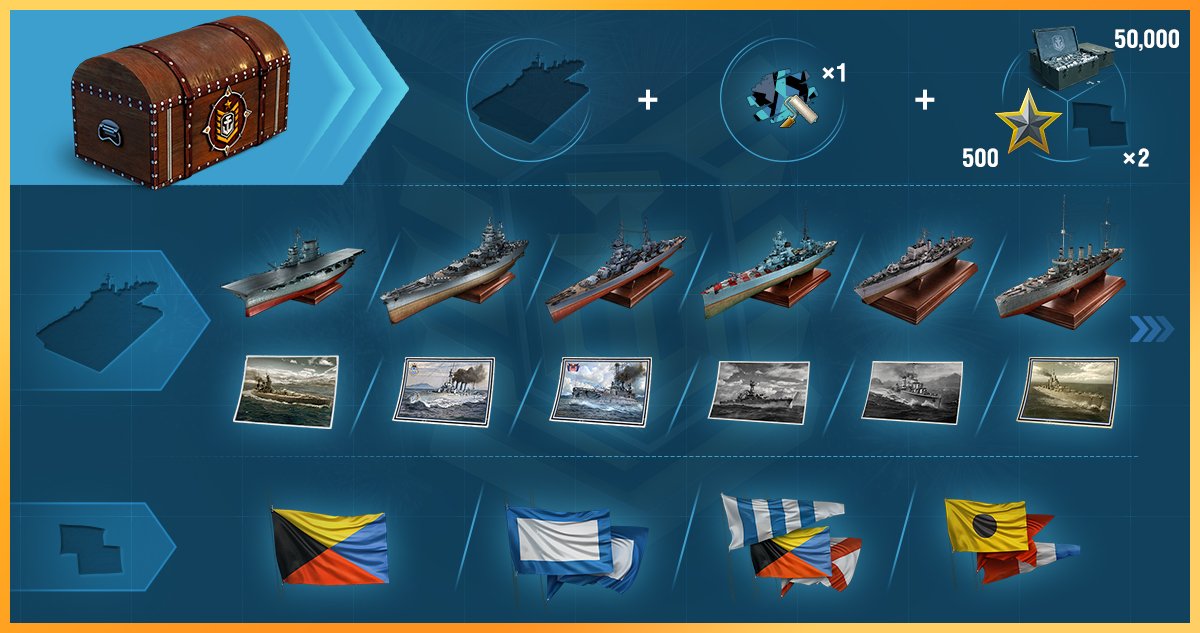 ---