Returning Veteran Player Invite Codes - All Regions - Rewards VI Warspite, II Diana Lima - 2 x Supercontainers - Premium Days - and much more
This offer is for any returning veteran player that has
not played a battle in 90+ days
, and wants to re-join the game.
Important!
Before you play your first returning battle make sure you click your regional link
NA
-
EU
-
ASIA
-
RU
below that you already used in the past, this will insure that you are eligible for the Invite rewards shown on the posters
(see images below)
Rewards for playing your first battle as a returning player.
Once you have finished your first returning battle you will receive the rewards in the poster below.
Rewards for Playing any Tier VI Ship.
After playing your first Tier VI battle in Random Battles or CO OP, you will be rewarded with an awesome Tier VI Battleship Warspite, a 10 skill point Commander and several days premium account.
Rewards for winning 25 battles of any type after returning.
After playing 25 battles in Random or CO OP or other modes, you will be rewarded with 2 x Supercontainers and 14 days premium account.
Rules
.
The rules are very simple, in order to receive any of the goodies that are shown above, you need to follow the instructions after you have clicked the regional server buttons below, the regional button you choose has a code embedded in the link which sends you to World of Warships game registration page, first, you will need to click
"Accept"
, if you have already downloaded the game and created an account, there will be a link you need to click
"I already have a Wargaming account"
, but not played your first returning game, then you can should receive the same rewards,
do not leave the page you were sent too, until you have completed the registration or logged in.
After joining you will start to earn recruitment points for battles played:
After joining and playing games, you will start to earn recruitment points, you can use these recruitment points to purchase 3 x types of recruitment containers also valuable goodies in the Armory.
Recruitment Containers:
Recruitment containers are a special way of winning more rewards for simply just playing battles.
You will see below are some of the best ships the game has to offer for their Tiers.
The more you play the more points you earn, the bigger the rewards.
Contents of the
Recruitment Containers: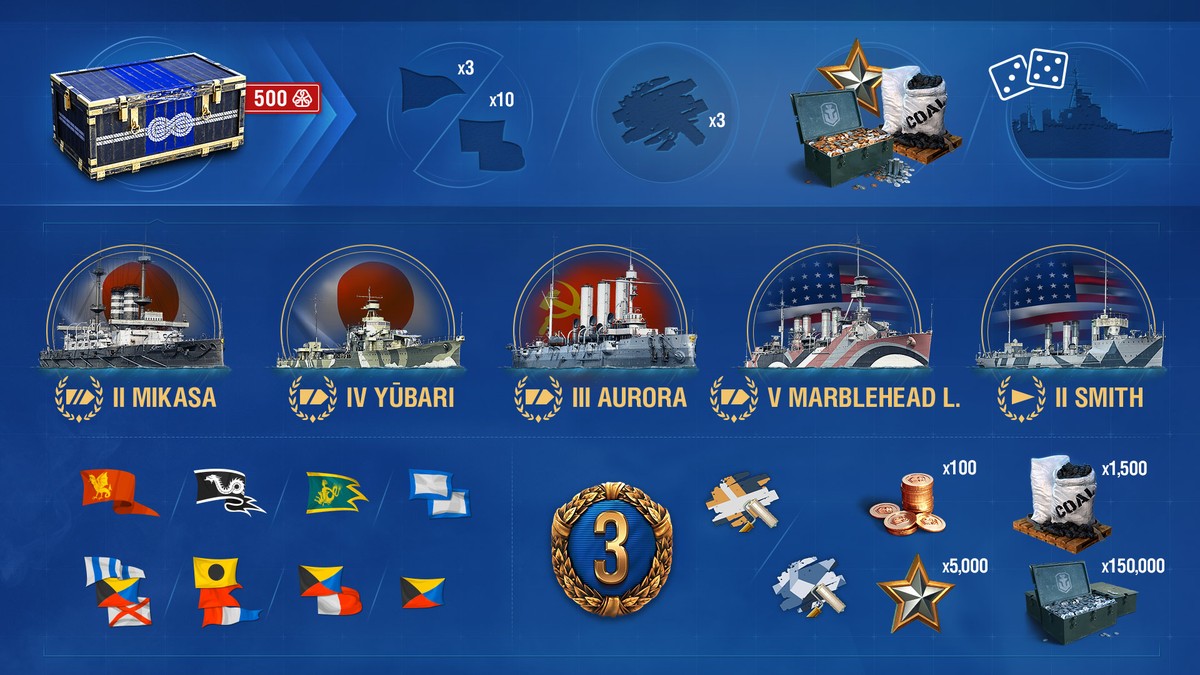 You can find one of the following rewards in the Junior Recruit Container:
A Premium ship:
III Aurora.

V Marblehead Lima.

II Mikasa.

II Smith.

IV Yūbari.

Each with 1 Port slot and Commander with 10 skill points.
3 Special signal flags of any type.
10 Economic signal flags of any type.
3 "Battle Hardened" or "This is your day" camouflage patterns.
3 Days of Warships Premium Account.

100

Doubloons.

1,500 Coal.

5,000

Free XP.

150,000

Credits.

Price 500 Points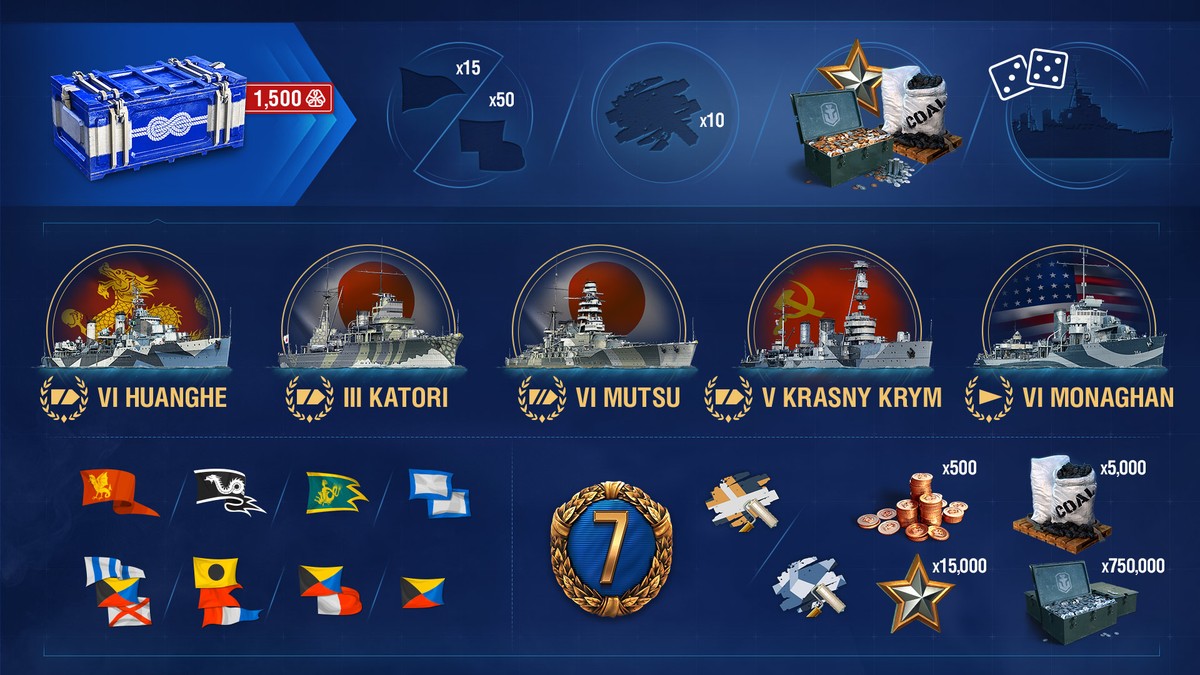 You can find one of the following rewards in the Seasoned Recruit Container:
A Premium ship:
VI Huanghe

.

III Katori

.

V Krasny Krym

.

VI Monaghan

.

VI Mutsu

.

Each with 1 Port slot and Commander with 10 skill points.
15 Special signal flags of any type.
50 Economic signal flags of any type.
10 "Battle Hardened" or "This is your day" camouflage patterns.
7 Days of Warships Premium Account.

500

Doubloons.

5000 Coal.

15,000

Free XP.

750,000

Credits.

Price 1500 Points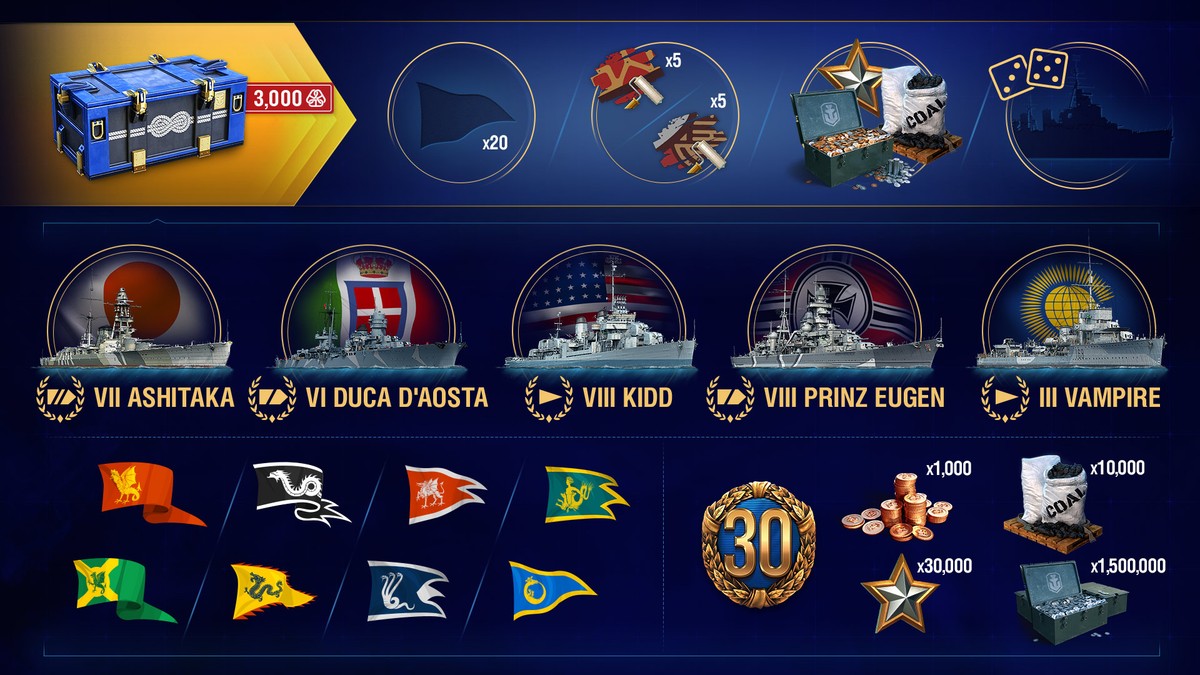 You can find one of the following rewards in the Veteran Recruit Container:
A Premium ship:
VI Duca d'Aosta

.

VII Ashitaka

.

VIII Kidd

.

VIII Prinz Eugen

.

III Vampire

.

Each with 1 Port slot and Commander with 10 skill points.
20 Special signal flags of any type.
50 Economic signal flags of any type.
5 "Mosaic" or "Asian Lantern" camouflage patterns.
30 Days of Warships Premium Account.

1,000

Doubloons.

10,000 Coal.

30,000

Free XP.

1.500,000

Credits.

Price 3000 Points