New Player Invite Codes - Community Tokens - Ships - Supercontainers, Perm Camos, and Much More
Before you play your first battle make sure you click your regional link
NA
-
EU
-
ASIA
-
RU
below, after you click one of the buttons below, it will be very important to follow the instructions in order to get your free goodies.
(see button images below)
After joining and playing games, you will start to earn Community Tokens, you can use these Community Tokens to purchase Ships, Supercontainers, 3 x types of recruitment containers also valuable goodies in the Armory.
The "
Naval Community
" Armory tab will be stocked with a sizeable amount of in-game content that can be obtained in exchange for Community Tokens. At launch, you'll be able to purchase a number of rare ship customizations, containers, and even a Premium ship! The pool of available rewards may be partially refreshed from time to time, but some items, such as Recruiting Station containers, will be a constant fixture.
With the release of Update 0.10.5, the following rewards will be available for Community Tokens:
Items to buy with Community Tokens

Price

Containers

Junior Recruiting Station container

500

Seasoned Recruiting Station container

1 500

Veteran Recruiting Station container

3 000
Community Trophies bundle (1x More Credits container, 1x More Signals container, 1x More Resources container)
750
Supercontainer
6 000

Ship Containers

Premium Ship II-IV

Container
8

500

Premium Ship V

Container
15 000

Premium Ship VII

Container
30 000

Expendable Customizations

Recruiting Station camouflage
120
Restless Fire camouflage
100
Stream Dream camouflage
60
MGT-20 camouflage
40

Permanent Customizations

Skull permanent camouflage for

V New York

2 000
Ocean Liner permanent camouflage for

VI Normandie

6 000
Szarza permanent camouflage for

VII Błyskawica

4 000
303 Squadron permanent camouflage for

VII Błyskawica

4 000
Leningrad Defense permanent camouflage for

VII Minsk

8 000
Leningrad Defense permanent camouflage for

VII Leningrad

8 000
Remembrance Night permanent camouflage for

VII Helena

8 000
Gothic permanent camouflage for

VIII Bismarck

10 000
Recruitment containers are a special way of winning more rewards for simply just playing battles.
You will see below are some of the best ships the game has to offer for their Tiers.
The more you play the more points you earn, the bigger the rewards.
Contents of the
Recruitment Containers: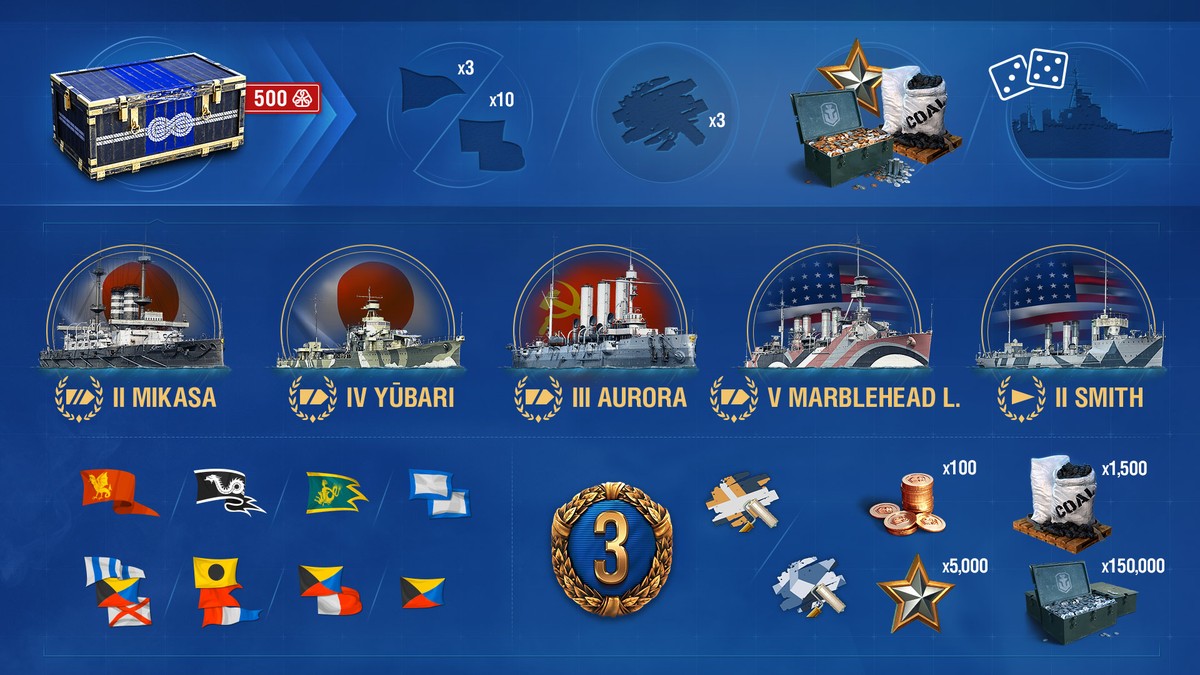 You can find one of the following rewards in the Junior Recruit Container:
III Aurora.

V Marblehead Lima.

II Mikasa.

II Smith.

IV Yūbari.

Each with 1 Port slot and Commander with 10 skill points.
3 Special signal flags of any type.
10 Economic signal flags of any type.
3 "Battle Hardened" or "This is your day" camouflage patterns.
3 Days of Warships Premium Account.

100

Doubloons.

1,500 Coal.

5,000

Free XP.

150,000

Credits.

Price 500 Points
---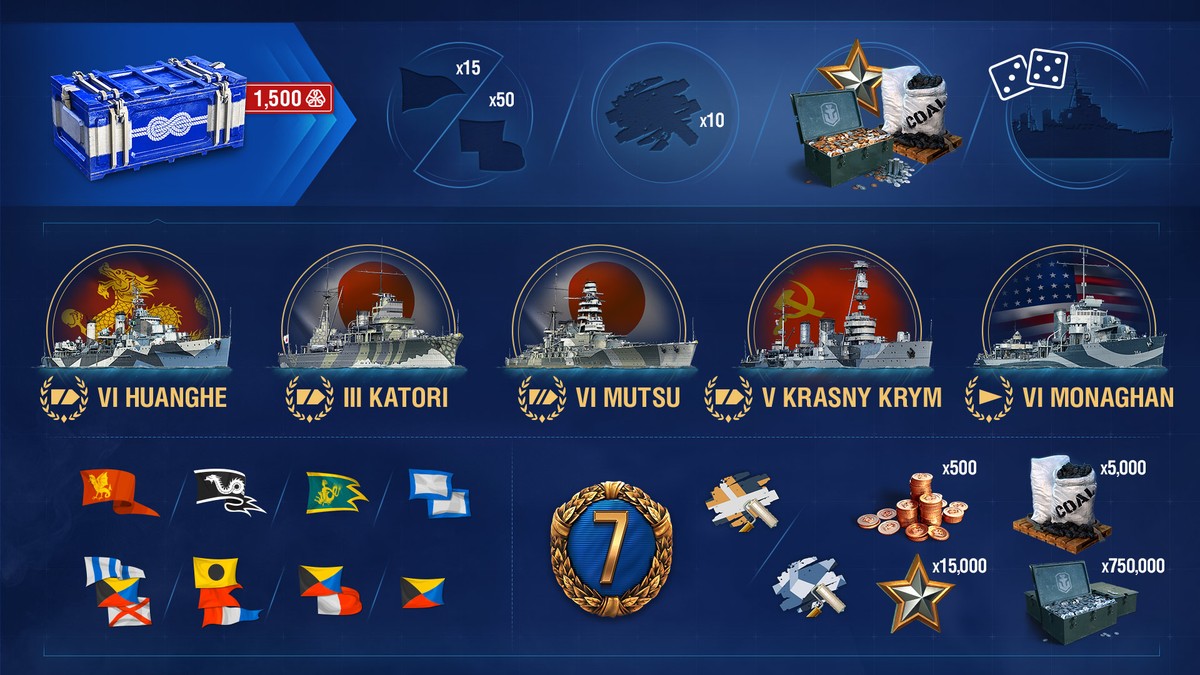 You can find one of the following rewards in the Seasoned Recruit Container:
VI Huanghe

.

III Katori

.

V Krasny Krym

.

VI Monaghan

.

VI Mutsu

.

Each with 1 Port slot and Commander with 10 skill points.
15 Special signal flags of any type.
50 Economic signal flags of any type.
10 "Battle Hardened" or "This is your day" camouflage patterns.
7 Days of Warships Premium Account.

500

Doubloons.

5000 Coal.

15,000

Free XP.

750,000

Credits.

Price 1500 Points
---
You can find one of the following rewards in the Veteran Recruit Container:
VI Duca d'Aosta

.

VII Ashitaka

.

VIII Kidd

.

VIII Prinz Eugen

.

III Jurua

.

Each with 1 Port slot and Commander with 10 skill points.
20 Special signal flags of any type.
50 Economic signal flags of any type.
5 "Mosaic" or "Asian Lantern" camouflage patterns.
30 Days of Warships Premium Account.

1,000

Doubloons.

10,000 Coal.

30,000

Free XP.

1.500,000

Credits.

Price 3000 Points
Rules.


The rules are very simple, in order to receive any of the goodies that are shown above, you need to follow the instructions after you have clicked the regional server buttons below, the regional button you choose has a code embedded in the link which sends you to World of Warships game registration page, first, you will need to click "Accept", if you have already downloaded the game and created an account, there will be a link you need to click "I already have a Wargaming account", but not played your first game, then you can should receive the same rewards, do not leave the page you were sent too, until you have completed the registration or logged in.{alertInfo}