---
---
Added:
Research Bureau Guide.
---
Update 0.8.7 introduced a new progression system, the
Research Bureau
. You will be able to earn a new resource Research Points which can be exchanged for valuable rewards. All that's required is to reset researchable branches of ships and progress through them anew.
The goal of the

Research Bureau

is to further motivate players to engage with all tiers of their favourite ship branches and earn unique rewards along the way.
---
RESEARCH POINTS AND REWARDS
Research Points can be exchanged in the new section of the Armory called the Research Bureau.
When the new system launches, French cruiser
X Colbert
will be available for
57,000
Research Points. Later, she will be joined by American battleship
X Ohio
.
If you aren't ready to invest your Research Points in a new ship, you'll always have the opportunity to exchange them for bundles with combat signals or Free XP. For example, a bundle with
250,000
Free XP will be available for just
12,500
Research Points.
Please note: the
Research Bureau
section of the Armory will only become available after earning your first Research Points.
How can you earn Research Points?
If you have at least five Tier X ships researched, you will gain access to the Research Bureau, along with a one-time reward of
10,000
Research Points and the option to reset any of the researched branches of ships.
Rules of resetting
You must have researched a Tier X ship in the branch you intend to reset. However, the actual ships of this branch do not have to be purchased and in your Port.
A branch that's reset will be completely rolled back to the Tier I ship.

If you've researched the British cruiser branch up to X Minotaur, upon resetting the branch, all cruisers starting from I Black Swan will have to be researched once again.
If, for example, a branch has parallel lines that reach Tier X, such as the Soviet destroyer branch, you can choose which of the lines to reset. If you decide to reset the branch of Soviet destroyers starting from X Grozovoi, it will be reset to VII Minsk, then to

II Storozhevoi

, and then cruiser II Novik. At the same time, you'll be able to reset the second branch from X Khabarovsk on the same principle, but in this case, bonuses will be received only by X Khabarovsk,

IX Tashkent

, and VIII Kiev.

When a branch is reset, any research performed on it will be reversed, and the ships and modules will be sold for half their cost.
Upgrades will be demounted free of charge and transferred to your Inventory, Commanders will be sent to the Reserve without losing their specialisation, and all XP earned will be transferred to the first ship of the branch.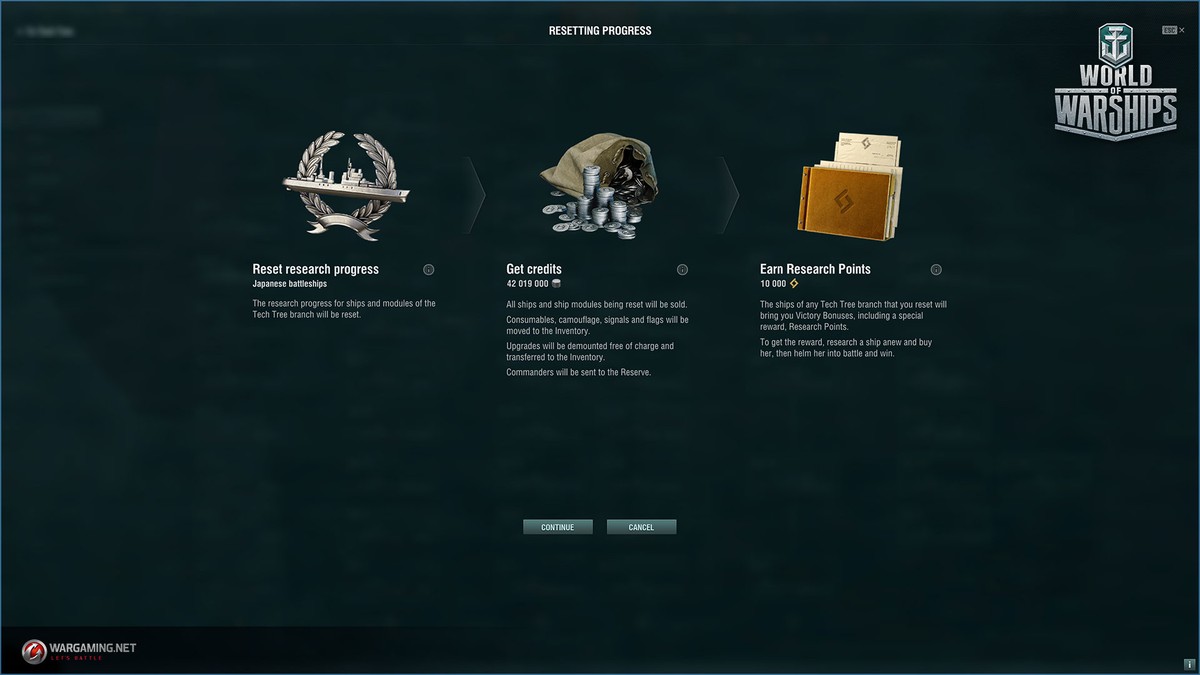 After resetting a branch, the Tier VI - X ships of that branch will have special Research Point marks which can be "scored" by gaining a victory in battle, similarly to bonus Stars of Victory. "Scoring" such marks will bring
Research Points

to players.
Earning Research Points: more details
Research Points can be earned once for the first victory on each ship after resetting the branch.
Any bonuses for a victory that awards Research Points will be displayed in the Port interface, in the same way as for other similar bonuses such as Stars of Victory.

Resetting a branch of ships can bring you up to

10,000

Research Points. The exact number of Research Points earned depends on the ship's tier:

500

for the first victory on a Tier VI ship

500

for the first victory on a Tier VII ship

1,500

for the first victory on a Tier VIII ship

1,500

for the first victory on a Tier IX ship

6,000

for the first victory on a Tier X ship

Resetting a branch of aircraft carriers can bring you up to

8,000

Research Points. This is because researching an entire branch of aircraft carriers requires about 20% less XP than other ship branches.

500

for the first victory on a Tier VI aircraft carrier

1,500

for the first victory on a Tier VIII aircraft carrier

6,000

for the first victory on a Tier X aircraft carrier

If, for any reason, a branch had gaps with unresearched ships, these ships will not receive a bonus for a victory attained on them. You can research any ships you skipped before resetting the branch in order to earn the maximum number of Research Points.
Research Points for the first victory can not be obtained in Clan or Training Battles.
---
SEASONS
The Research Bureau system will work on a seasonal basis. The first Season will last 3 months.
The effect of seasons on the Research Bureau lies in the fact that the Research Points first victory bonus will be doubled for the ships of the first branch to be reset during a season. The double bonus will remain on those ships beyond the end of the season, until the first victory is gained on them.
---
BONUSES AND ACTIVITIES
Along with the launch of the Research Bureau, we've prepared a few nice surprises for you.
From the day of the Update's release until August 30, and then between September 6 and September 13, you'll find the following bonuses and discounts in the game client. These will help you save resources and research branches of ships faster:
+100% XP for the first win of the day
−50% to the cost of Port slots
−50% to the cost of upgrades
−25% to the cost of permanent camouflage patterns for Tier VIII–IX ships
Besides this, special combat missions will be available to you in the
Challenges
tab. To complete these, you'll need to earn XP in Operations, Random, Ranked, and Co-op Battles on Tier VI - IX ships of all types. The combat missions will be available across three Updates from Update 0.8.7 through Update 0.8.9 and can be completed up to 10 times each.
For completing the missions, players will be rewarded with economic and special signals that will help facilitate research.
Three consecutive seasons of Ranked Sprints on Tier VI–VIII ships will also be held during Updates 0.8.7–0.8.8. You'll be able to not only research your ships and earn Research Points for gaining the first victories on them, but also obtain valuable rewards while participating in Ranked Sprints. You'll find further details in a number of articles dedicated to Ranked Sprints on our website.
Rediscover and research old friends from your favourite branches of ships, earn Research Points, and obtain more rewards than ever before with the Research Bureau.