Spend Doubloons and get a T-61 Early
---
VI T-61
's homecoming is finally on the horizon! Get early access to the coveted German Destroyer a full week before the official release on the Premium Shop!
For three days only, depending on the number of Doubloons you spend in-game, you will receive tiered rewards. Spend enough Doubloons and you will get
VI T-61
in your port this Friday 10 August, along with her special flag!
Important: Click the button below to participate in the event.
The button above is for the EU region, Go to your regional website/news column for your button.
Doubloons

Spent

What You Get:

2,500 - 6,249

2 Type 59 Camos *

6,250 - 12,499

5 Type 59 Camos *
5 of each regular signal flag

12,500 - 24,999

15 Type 59 Camos *
10 of each regular signal flag

25,000 +

15 Type 59 Camos *
10 of each regular signal flag ,

VI T-61
* (-3% to surface detectability range. +4% to maximum dispersion of shells fired by the enemy at your ship. +200% experience earned in the battle.)
T-61 credited: Fri. Aug. 10
T-61 sale starts: Fri. Aug. 17
---
---
Flying Dutchman

- Having a low base detectability range, T-61 can be outfitted to roam the battlefield like an unseen ghost.

Dutch Courage

- Couple her excellent concealment with one of the sturdiest health pools of her tier, and T-61 can confidently take the road less sailed: contesting caps and scouting behind enemy lines.

Frenzied Fish

- T-61 is decked out with a deadly set of eight fast torpedoes with a good range, high damage, and a lightning-fast 68 second reload time. Combine this with the signature German Hydroacoustic Search consumable and enjoy lording over caps.
---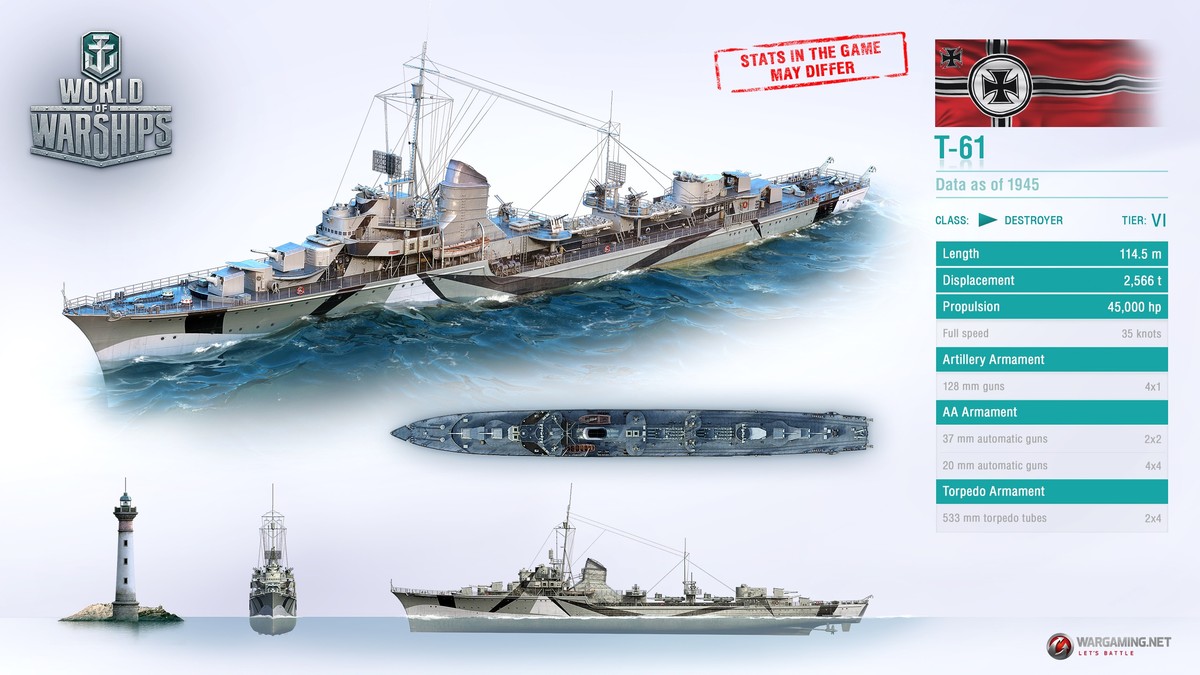 ---
Ship Tips: T-61
General Play
T-61's four 128 mm guns pack a punch thanks to their fast reload rate and deadly German AP shells.
Your German Smoke Generator may not be all that, but taking full advantage of your fast torpedoes, good concealment, and Hydroacoustic Search , clearing out and claiming enemy smoke screens can be a viable option.
A competitive main battery combined with devastating torpedoes make for a great all-rounder of a ship.
Build Recommendations
Upgrades
Main Armaments Mod. 1
Propulsion Mod. 1
Aiming Systems Mod. 1
Propulsion Mod. 2
Commander Skills
Priority Target
Last Stand
Adrenaline Rush
Torpedo Armament Expertise
Superintendent
Concealment Expert
---
Source: WOWS Regional Websites
---
WOWS Gamer Blog
Read the Latest Before Anybody Else
Teamed with
WGB
World of Warships Online Gamers Blog, a blog that shares the latest news, ship stats, bonus codes, develop...