A Bit of Polish
If you've been anywhere near the World of Warships Twitter or caught our previous comic updates, then you've likely stumbled upon
Naval Nonsense
-- our weekly comic series pitting daring seamen against amusing situations captains encounter every day in World of Warships!
But for those of you unable or unwilling to wade into the world's most (in)famous "micro-blogging" platform, we've assembled the latest comics right here: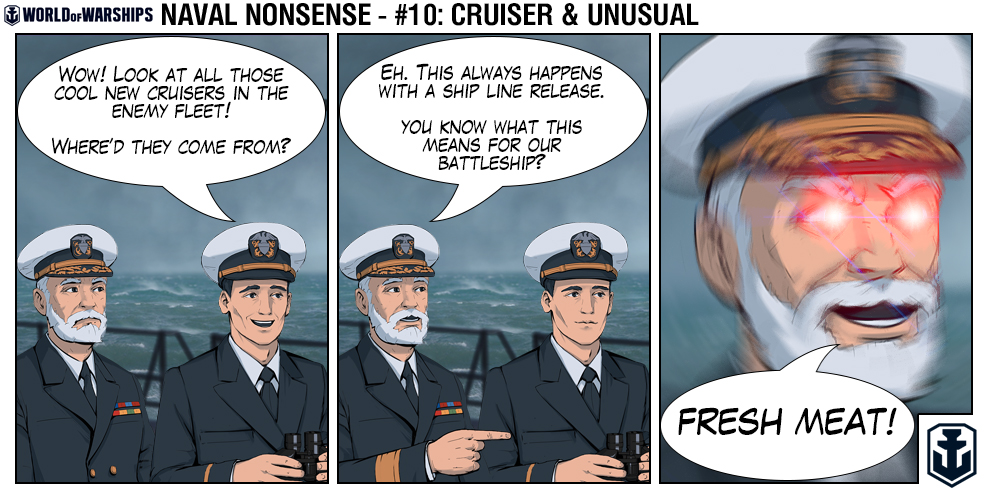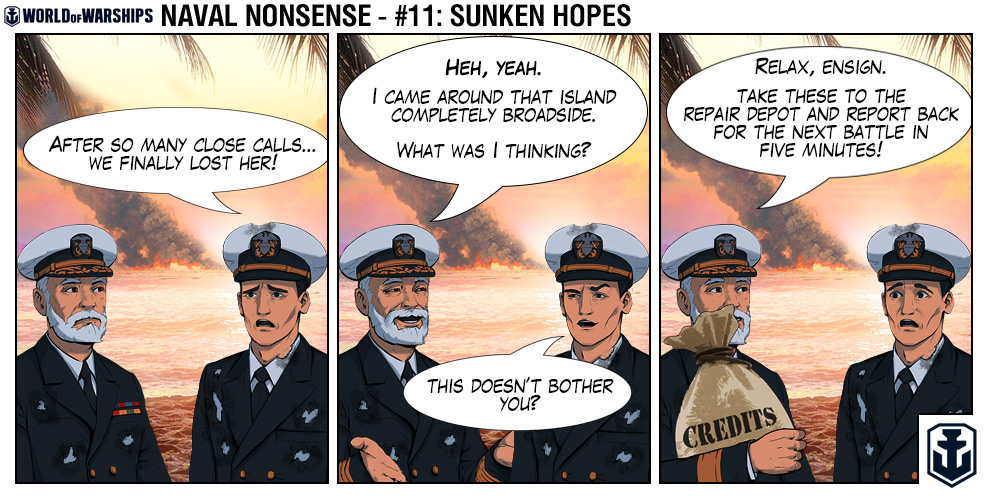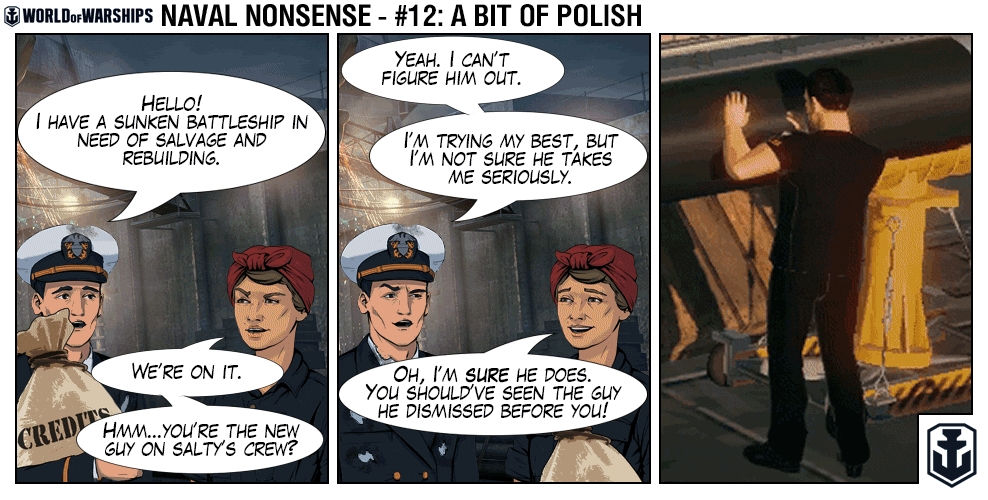 Capt. Salty McGraw
Captain McGraw is a seasoned veteran of countless battles spanning from the Open Beta Wars to the mysterious Clash of Elements. Years of experience have taught McGraw unconventional tactics unheard of in historical naval warfare. As a result, he strikes some as eccentric, but those unconventional tactics tend to payoff in spades.
Currently Watching: CHIPS
Curently Listening To: Meat Loaf - Bat Out of Hell
Most Recent Google Search: senior sailor singles dating
---
Ens. Tate R. Smith

As the newest addition to the crew, Smith is still grasping the strange battles they face and the stranger tactics the Captain resorts to in order to triumph. He's yet to become fully concicous of the fact that they all exist in a strange simulation in which "crossing the T" just doesn't work. Despite his bafflement, Smith is an eager learner and seems to be adjusting quickly.
Currently Watching: Hinamatsuri
Currently Listening to: Muse - Drones
Most Recent Google Search: custom twitch overlay guide
---
Ch. Eng. Joslyn
Despite rarely going out to sea these days, Joslyn feels like she's seen it all. As the leader of one of the many repair crews in Port, she's encountered her fair share of baffling wrecks and repaired them (inexplicably) quick. Though the obligatory Rosie the Riveter jokes bugged her at first, she's gone on to embrace the resemblance and is often seen charging passersby for photo ops.
Currently Watching: GLOW
Curently Listening To: Gorillaz - The Now Now
Most Recent Google Search: cthulhu tentacle detangle propeller tutorial
---
WOWS Gamer Blog
Read the Latest Before Anybody Else
Teamed with
WGB
World of Warships Online Gamers Blog, a blog that shares the latest news, ship stats, bonus codes, develop...
---